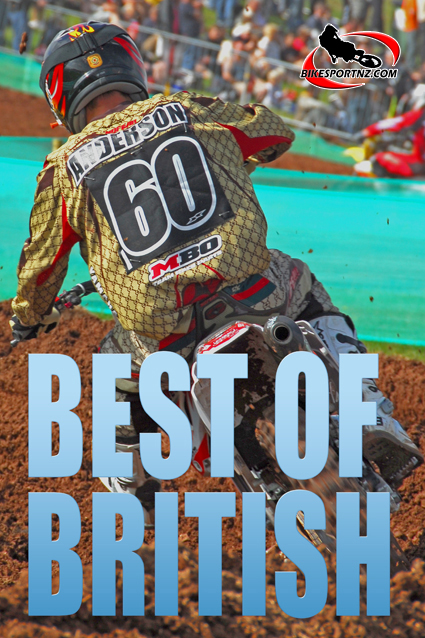 It is after much hand-wringing and plenty of furrowed brows that the British have finally settled on a team to contest the 64th Motocross of Nations in Denver.
The team, now confirmed by the ACU British team manager Steve Dixon will comprise … Jake Nicholls (KTM) on the MX1 bike, Brad Anderson (Honda) on the open bike and Canadian-based Dean Wilson (Kawasaki) on the MX2 machine.
Over the last few weeks the British line-up has been hit with injury problems affecting availability and now the new-look team will head to Denver and be proud to wave the Union Jack and hopefully push for podium contention against 31 other countries, including New Zealand.
"I'm delighted that despite the injury setbacks with Tommy Searle and Shaun Simpson in recent weeks we are still able to have a good solid team," said Dixon.
The British team in Italy last year was Billy Mackenzie (MX1), Shaun Simpson (open) and Tommy Searle (MX2) and they finished fifth overall, behind the USA, France, Belgium and Germany.
"I spoke to Shaun after he had done well at last weekend's Grand Prix of Benelux at Lierop," said Dixon. "He has shoulder surgery booked in after the Italian round this weekend as this is the earliest he can get it done so as to not lose time for his preparation over the winter. He would also not be able to dedicate time to riding the 450 for the Nations and, by his own admission, the instability of the problem meant that he was too risky to be considered for the team. Tommy's comeback did not go as planned because he fell again and re-injured the nerve in his shoulder, which also ruled him out of the Nations a few weeks ago.
"I feel still we can pull together to push for a podium," he added. "We will need a little luck but the Nations is a special and unique race and many things can happen. We have had bad luck with injuries so maybe it our turn for some fortune. With the right strategy we are aiming for a good overall finish.
"We will work hard to ensure we are prepared and ready to fight hard and both Brad and Jake are very positive and honoured to step in and get this chance to represent their country alongside Dean who has had a great season in USA," he said.
© Photo by Andy McGechan, www.BikesportNZ.com