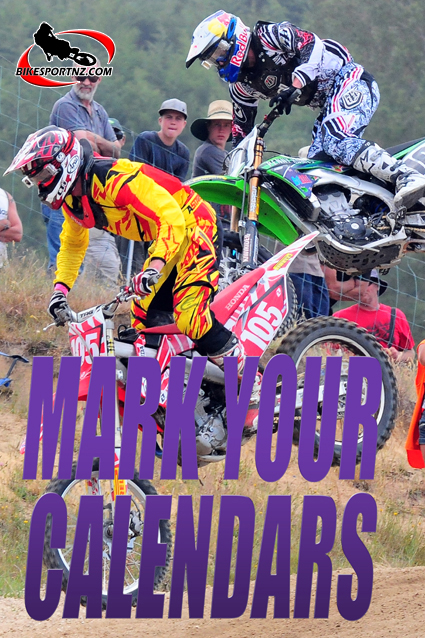 The countdown has started for this year's big annual Edgecumbe SuperValue Supermarket Summercross event near Whakatane.
Heading to the Bay of Plenty this Christmas, then mark your calendars for the Summercross on December 27-28.
After a very successful 2009 Summercross when special guest rider Ben Townley launched his comeback to racing after sitting out most of the 2008 and all of the 2009 American (AMA) motocross nationals, it was a dream return for him to the top step of the podium, a performance that had led on to a very successful season for the Bay of Plenty rider in the United States in 2010.
This year sees another high for the Bay of Plenty Motorcycle Club with news this week that Townley will return to defend his Summercross title, along with former Summercross champion and World Motocross Championship contender Josh Coppins. The last time these two did battle at Summercross was in 2007 and what a show they put on.
The Awakaponga Motocross circuit will see some track changes for this year's event, with the top junior motocross riders competing on Monday, December 27, with the senior riders racing on Tuesday, December 28, on that same track layout.
The 27th will also host the Mini Summercross competitors on one of the few natural terrain tracks which always tests the fastest mini riders.
In conjunction with the senior riders on Tuesday, the club has branched out into V.M.X (Vintage Motocross), with the older Pre '86 motocross bikes utilizing the track the mini riders use the previous day — so you will see some classic "Old School" bikes from several different eras battling for the title of this first ever V.M.X Summercross event.
A confirmed list of senior MX1 and MX2 riders so far include:
Ben Townley and Josh Coppins, Darryll and Damien King, Mitch Rees, Michael and John Phillips, Justin McDonald, Daryl Hurley, Brad Groombridge, Mason Phillips and Nick Saunders.
This year the event will be filmed by the team at Shoei Bike Rider TV
It's shaping up to be pretty big — with entry forms due out by the end of September, and sponsors jumping on board to be part of SUMMERCROSS 2010.
© Photo by Andy McGechan, www.BikesportNZ.com