It was a mixed weekend for the Kiwi riders contesting this year's FIM World Junior Motocross Championships in France.
Mangakino's Kayne Lamont (Suzuki) DNFed his first 125cc moto but scrambled back to record an 11th placing in the second moto, giving him 17th overall for the event.
Rangiora's Isaiah McGoldrick (KTM) fared less well, finishing out of the points both times, while his younger brother, Micah (KTM), managed to finish 32nd overall in the 85cc class.
"The last two weeks have been full on, been learning heaps about racing and the level that people race at is something different," said Micah McGoldrick at the end of this European adventure.
"France was very hot and there was over a 100 riders in my class. I had my starts down all weekend, being top three round the first corner in both moto one and two. Good starts helped a lot for having a good race but my good starts and races would end all wrong.
"I was sitting in the top five in moto 1 and 2, and feeling strong and good on the bike but making too many mistakes, which cost me a good finish. That's racing for you: Thinking you're going to do well and it all goes bad and you're just gutted it did. But I'm going to move on and come back stronger and faster.
"Overall I had an awesome time, meeting a lot of cool people, seeing and doing a lot of cool stuff."
German rider Stefan Ekerold, who was Micah's team-mate, finished 3rd overall. Micah McGoldrick actually beat him the weekend before at the ADAC MX Masters.
Micah's big brother, Isaiah, also enjoyed the experience.
"My goal at this event was to Qualify into the top 40 and I  qualified 23rd, so I was happy with that," said Isaiah McGoldrick.
"On race day, things went backwards though. In moto one, I had a very hard crash around the high-speed sweeping first corner. Luckily I could still ride the bike. I made some positions up, until I then landed on a crashed rider's bike that was on top of a blind rise … with no yellow flags. In this crash my front tyre went flat. I went into the pits and put on a new front wheel, then went back onto the track.
"But I got black flagged for re entering the track after being back in the pits. So that was a DNF.
"In the halfway point of moto two I was sitting 26th. I had another massive crash, going over the bars on a table top. I got back up but pulled out of the race because I was really shaken up from the crashes. It was a super painful and sour weekend.
"But enough of the negative. I am still alive and going strong.  For sure the last two weeks have been up and down, but, overall I had a awesome experience. I wish I could stay because this is where the best riders and biggest races are. I will be back as soon as possible.
"Thanks to all the people who supported us and our fundraising. I'm super lucky to have gotten here.
"And a special thanks to the 'Machine', Antony Sproull. He has sacrificed and done a lot to get us over here. He never doubts us. Thanks for everything coach."
So, instead of the Kiwi trio, the weekend instead belonged to American rider Jake Pinhancos (65cc), Henry Jacobi, from Germany (85cc), and French sensation Jordi Tixier (125cc).
Youth riders from 34 different nations put on a scintillating display in six exhilarating races at the Dardon-Gueugnon circuit in France.
Not even the threat of thunderstorms and some very nasty winds kept away the 5000 spectators from watching these talented youngsters fighting for their dream of becoming the future Roczens, Herlings and Tomacs of the world motocross scene.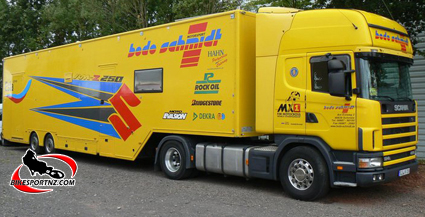 65cc CLASS
The 65cc class was won by Jake Pinhancos making his way to victory after an exciting battle with Saturday's qualifying session fastest junior, Taiwanese Brian Hsu. The American showed he was the rider to beat right from the start putting up two moto wins: "It was really difficult to hold Brian but he had some bad luck on the last moto and that can happen to anybody. The track was really rough; I don't have such hard-pack tracks at home so I had a hard time getting around it. I'd like to thank the people who set up this race, I want to come back sometime" said Pinhancos. Third place rider was Wilson Todd from Australia with two consistent outings in third and fourth.
85cc CLASS
German rider Henry Jacobi won the 85cc class with a victory on the first moto and a third place on the second. Slovenian Tim Gajser, winner of the second moto finished two points short, right behind Jacobi who put up a solid ride in his first race of the day.
On the second one the young German had some work to do: "I was in eighth after the start and had to make my way through the field only able to finish in third but was enough to get the overall. I want to thank my parents and my sister for helping me so much to get here", said Jacobi. Fellow countryman Stefan Ekerold was third overall even with a bad start on the second moto which he finished in twelfth position.
125cc CLASS
Jordi Tixier won the European 125 Championship and can now add to his trophies the Junior 125 World Champion title. Although he had great opposition from American Joey Savatgy and Austrian Pascal Rauchenecker, the French sensation ran both motos with the level of competence the fans were waiting for: "Things weren't easy as it looked because Savatgy is a pretty good rider although after having two good starts and finding better lines on the second race I managed to win both motos.  I hope to ride on the MX2 Championship next year and get some good results to be able to thank again the support I've been having from my family and fans", said Tixier.
USA got on the top step for the nations classification. France was second and 2009 winner Australia had to settle for third position this year.
RESULTS
Juniors 65cc top-ten
1 PINHANCOS Jake USA AMA KTM 25 25 50
2 HSU Brian TWN FMI KTM 22 22 44
3 TODD Wilson AUS MA KTM 20 18 38
4 SIKYNA Richard SVK SMF KTM 16 16 32
5 VAESSEN Bas NED KNMV KTM 12 15 27
6 EVANS Mitchell AUS MA KTM 13 14 27
7 PAPI Brock USA AMA METRAKIT 11 12 23
8 CROWN Joseph USA AMA KTM 0 20 20
9 PRAMMER Lukas AUT OeAMTC KTM 10 10 20
10 ZONTA Filippo ITA FMI KTM 18 0 18
Juniors 85cc top-ten
1 JACOBI Henry GER DMSB KTM 25 20 45
2 GAJSER Tim SLO AMZS KTM 18 25 43
3 EKEROLD Stefan GER DMSB KTM 22 9 31
4 JONASS Pauls LAT LaMSF SUZUKI 7 22 29
5 KOVAR Vaclav CZE ACCR KTM 14 15 29
6 CERVELLIN Michele ITA FMI HONDA 15 13 28
7 DE WAAL Micha Boy NED KNMV SUZUKI 11 16 27
8 BOGERS Brian NED KNMV KTM 5 18 23
9 MANN Scott AUS MA KTM 20 2 22
10 OLSEN Thomas Kjer DEN DMU SUZUKI 9 10 19
Juniors 125cc top-ten
1 TIXIER Jordi FRA FFM KTM 25 25 50
2 SAVATGY Joey USA AMA SUZUKI 22 20 42
3 RAUCHENECKER Pascal AUT OeAMTC KTM 16 22 38
4 JAULIN Sulivan FRA FFM YAMAHA 20 16 36
5 DESPREY Maxime FRA FFM YAMAHA 14 15 29
6 OLSEN Stefan DK DMU SUZUKI 15 12 27
7 BERNARDINI Samuele ITA FMI KTM 12 14 26
8 HANOUSEK Roman CZE ACCR KTM 10 11 21
9 BISCEGLIA Matt USA AMA YAMAHA 18 2 20
10 PATUREL Benoît FRA FFM YAMAHA 13 6 19
Full story and more photos in your next issue of KIWI RIDER magazine.