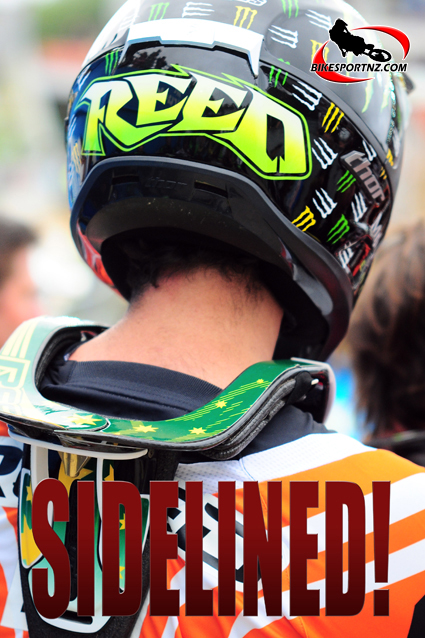 Yet another high-profile rider won't be at this year's Motocross of Nations as Chad Reed today announced he was withdrawing from the Australian team.
With legendary Americans James Stewart and Ryan Villopoto not making the cut for Team USA and world MX1 champion Antonio Cairoli and former world No.1 David Philippaerts unable to represent Italy, the big MXoN race in Colorado, USA, on September 25-26, will certainly be missing some fizz.
Diagnosed with Epstein Barr Syndrome little more than a month ago and unable to defend his 2009 AMA Motocross Championship title, Reed this week made the difficult decision to withdraw from the Australian Team.
Reed said that, without a doubt, Jay Marmont was the best candidate to replace him and his performance was the benchmark of the Australian Motocross scene.
Marmont will now join Dean Ferris and Brett Metcalfe for the Colorado event.
"Trying to make the smartest decision isn't always the easiest decision so it is really hard for me to announce that I am not going to be racing in the 2010 Motocross of Nations," Reed said.
"I am always extremely proud to represent my country at this event, not only is it an honour to be chosen, Team Australia has always been a case of my best mates and I racing together.
"However, based on my performance and health this year I have to make a smart decision and I feel that there is someone else who deserve this honour more than I do.
"For the past three years no one has come close to Jay's performance in the Australian Motocross scene – even in the middle of the greatest personal adversity he didn't drop the ball once and I think he will truly do his country proud.
"Getting well is my number one priority right now, I have to be healthy and ready for the 2011 AMA Supercross Series and AMA Pro Motocross Championship."
Reserve rider and three times Australian Motocross Champion Marmont will have some big shoes to fill, as he steps up to replace Reed.
Speaking after the announcement, the Wollongong local was excited about the opportunity to represent his country for the first time.
"This is a dream come true for me," Marmont said.
"I was wondering if I would ever get my shot because the last few years, even though I've done well domestically, there's always been a strong group of riders based in America.
"When I got the call I was over the moon and now I'm just so excited to go over there – to race guys I've never raced before and most importantly to represent my country.
"I've always been a team player and been consistent in my racing so I'm going to give it all I've got to put myself and the team in the best position possible.
"Dacka [Marmont's Team Manager and former Mr Motocross Champion Craig Dack] likes to remind us every time the des Nations is on, that when he went over to race they were the highest placed Aussie Team and that no one's has topped it yet, so this is my chance to go one better!
"We've got a strong team – on paper it may not be as strong as we've had in the past – but it's a team with nothing to lose so everyone is going to go out there and give it their all and hopefully we can do well.
"I was reading the other day that the Australian Team came third at the Junior Motocross World Championship – good on them – that is something they can be very proud of and if we can go out there and do what they did or even better that would be a huge feat for us!"
© Photo by Andy McGechan, www.BikesportNZ.com