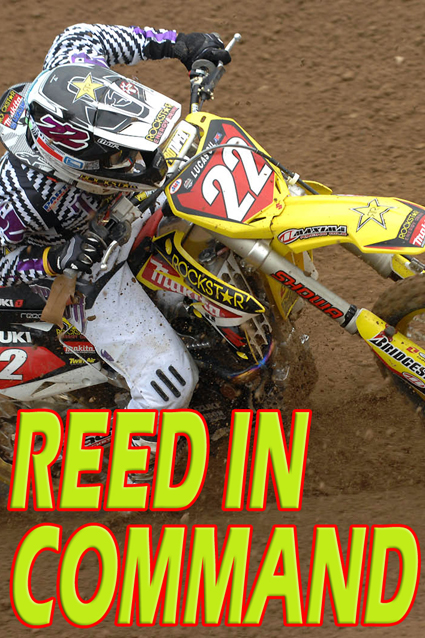 Australian Chad Reed further extended his points lead in the United States Motocross Championships at the weekend.
With just three rounds remaining, it seems likely the Suzuki rider will this season add the outdoor title to the supercross crowns he's already claimed in America.
Reed scored back-to-back wins in the open class at Unadilla and he is now 82 points clear of his nearest threat for the title, Honda's Andrew Short.
MCRMX's Jeff Alessi got the first-moto holeshot began to pull away from second-placed Davi Millsaps (Honda). On lap three, though, Alessi crashed out of the lead, handing the spot to Millsaps as Reed was working his way toward the leaders.
After five total laps, Reed had not only caught Millsaps, but passed him, and quickly began to pull away. Over the next half of the race, Millsaps lost touch with Reed and then fell into the clutches of Kawasaki's Tommy Hahn, who moved into second with four laps to go. Then Millsaps had to fight off Reed's team-mate Michael Byrne, and he was able to do so successfully.
Reed took the win over Hahn, Millsaps, Byrne, Short, Ivan Tedesco and visiting GP rider Gareth Swanepoel (with the Monster Kawasaki squad for the weekend).
Short got the start in moto two and looked like a new man. However, Reed started close to the front and it wasn't long before he was working on Short for the lead, and he passed Short on lap five, again immediately checking out.
Short hung on for second over Byrne, Jagermeister KTM's Justin Brayton, Valli Yamaha's Kyle Regal, Swanepoel, Tim Ferry and Tedesco.
Reed took his fifth moto win in a row, and the second two-moto sweep in a row, on his way to the overall. Short was second and Byrne was third.
Meanwhile, the JGRMX Yamaha Team looked to the future with the AMA motocross debut of 18-year-old Christian Craig.  Riding alongside New Zealand's Cody Cooper, Craig is substituting for Josh Grant as he recovers from injury.
Cooper and Craig qualified sixth and 12th respectively, however they both had challenges during the racing.  In the first moto Cooper went down in the first turn, remounted and charged close to the top-10 only to suffer another crash.  He was credited with 17th.
Craig was having an outstanding first national moto running as high as eighth before he also went down finishing 34th.  The second moto again proved difficult for both riders with Craig unable to get comfortable with his suspension settings finishing 31st and Cooper getting a rock lodged in his front brake caliper causing him to make a NASCAR style pit stop and finish 30th.  Cooper's combined moto finishes gave him 19th overall for the day with Craig 33rd.
"Craig was riding well until his crash in the first moto stalled his momentum," said team manager Jeremy Albrecht.  "We will work on suspension settings this week and look forward to seeing his performance at Budd's Creek now that he has his first national motocross event behind him."
450cc Overall:
Chad Reed, Australia, Suzuki (1-1)
Andrew Short, Smithville, Texas, Honda (5-2)
Michael Byrne, Australia, Suzuki (4-3)
Justin Brayton, Murrieta, Calif., KTM (8-4)
Davi Millsaps, Murrieta, Calif., Honda (3-11)
Gareth Swanepoel, South Africa, Kawasaki (7-6)
Ivan Tedesco, Tallahassee, Fla., Honda (6-8)
Kyle Regal, Kemp, Texas, Yamaha (10-5)
Tommy Hahn, Decatur, Texas, Kawasaki (2-16)
Timmy Ferry, Largo, Fla., Kawasaki (11-7)
450cc Points Standings (After 9 of 12 rounds):
1. Chad Reed (387/4 wins)
2. Andrew Short (305)
3. Ivan Tedesco (286/1 win)
4. Josh Grant (272/1 win)
5. Michael Byrne (245)
6. Tommy Hahn (198)
7. Justin Brayton (183)
8. Nick Wey (163)
9. Cody Cooper (161)
10. Mike Alessi (142/2 wins)
250cc class overall:
Christophe Pourcel, France, Kawasaki (1-1)
Ryan Dungey, Belle Plaine, Minn., Suzuki (2-2)
Jake Weimer, Rupert, Idaho, Kawasaki (3-3)
Brett Metcalfe, Australia, Honda (4-4)
Broc Tickle, Holly, Mich., Yamaha (9-5)
Kyle Cunningham, Ft. Worth, Texas, Kawasaki (6-8)
Tommy Searle, Great Britain, KTM (10-7)
Justin Barcia, Cairo, Ga., Honda (7-10)
Matt Lemoine, Collinsville, Texas, Yamaha (14-9)
PJ Larsen, Stanley, N.C., Kawasaki (13-11)
250cc Points Standings (After 9 of 12 rounds):
1. Christophe Pourcel (387/3 wins)
2. Ryan Dungey (381/4 wins)
3. Brett Metcalfe (287)
4. Tommy Searle (268)
5. Jake Weimer (255/2 wins)
6. Justin Barcia (235)
7. Broc Tickle (227)
8. Tyla Rattray (175)
9. Tyla Rattray (175)
10. Kyle Cunningham (162)
Round 10 of the Lucas Oil AMA Pro Motocross Championship will be on August 22 at Budd's Creek Motocross Park, Maryland.
Photo by Big Joe, www.BikesportNZ.com