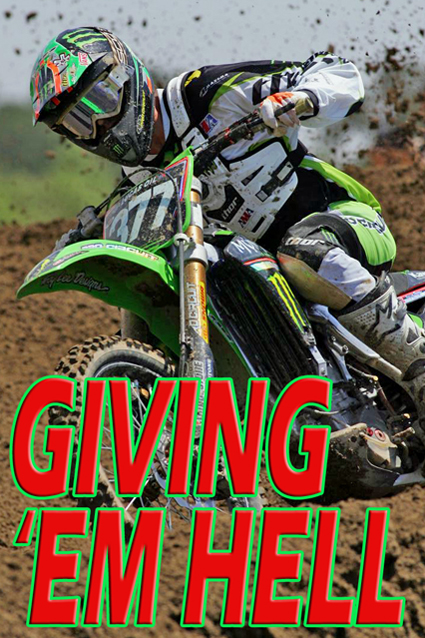 It may be the national motocross championships in the United States, but, for the first time in many years, it is being dominated by young men from other countries.
In times reminiscent of the 1980s when there was the onslaught of Frenchmen Jean-Michel Bayle and a young Sebastien Tortelli or Kiwi ace Ben Townley and South African Grant Langston more recently, in 2007, the AMA motocross nationals feature a clutch of foreigners on the top steps of the podium.
Australian Chad Reed (Suzuki) dominated the open class at round eight of the 2009 Lucas Oil AMA Pro Motocross Championships at Washougal on Saturday, winning both races and further extending his lead at the top of the standings.
Reed celebrated his third win of the 2009 in the 450 cass and now has a massive 65-point lead over his nearest rival, American Yamaha rider Josh Grant.
But at least the Americans had a response in the 250cc class with Suzuki's Ryan Dungey able to restore some Yankee pride.
Dungey won his second consecutive round of the series and moved into a tie atop the 250 class points standings, equal with French superstar Christophe Pourcel.
After returning to the series from a two-year hiatus, Reed entered 2009 without a single 450 class victory.
Now, the two-time supercross champion has three overall wins and appears to be on his way to an inaugural motocross championship.
On Saturday, he dominated the day's motos, cruising to a moto one victory and working his way from deep inside the top ten to the lead with just over two laps to go in moto two for his second sweep of the season.
"I just put my head down. I didn't even know who was winning," Reed said. "The sun was setting and coming through the trees and made it really hard to see in some places so I just kept looking for lines. I've just tried to be smooth (and) fast throughout the motos. The 30 minutes is the easy part. Today I felt strong. I just did what I had to do to win."
Grant finished second overall (5-2) with Yamaha's Jason Lawrence capturing his first-career 450 class podium in third.
It wasn't such a rosy day for the Kiwi contingent with Mount Maunganui's Cody Cooper (Yamaha) crashing out on lap six of moto one, while running strongly in eighth.
The front wheel tucked under him as he landed over a small rise and he was pitched over the bars, the bike cartwheeling over his prone body.
He was a non starter for moto two but, thankfully, drops only one position, to seventh in the series standings.
Masterton's Luke Burkhart (Honda) looked set for his best result in moto one, up to 15th place on lap six, but he was eventually swallowed up and slipped back to finish 18th.
He was running in 15th place in the next moto also when, once again, he was overtaken and then forced to withdraw after about five laps.
Christchurch's Justin McDonald (Honda) was locked in a mid-pack battle in both motos and he eventually clawed his way up to 25th in moto one, although unfortunately out of the points. He managed to clinch a solitary point by finishing 20th in moto two.
McDonald is 36th in the series standings, having contested just seven of the eight rounds, while Burkhart is ranked 47th overall, having contested just four rounds.
Perhaps the talk of the day was the superb 250cc ride of Dungey, easily the best-performed American in a class packed with international stars such as Pourcel, Australian Brett Metcalfe and Britain's Tommy Searle.
Just one week after sweeping the motos to win in front of his hometown crowd, Dungey maintained the momentum to win for the fourth time this season on Saturday, albeit with unlikely 1-5 moto results.
After a moto-long battle with Honda's Blake Wharton, Dungey grabbed the moto one win but found trouble in moto two. While battling inside the top five, Dungey fell twice but recovered to bring home the finish that would secure the overall by just one point.
"I made up some ground today," stated Dungey, who won his first career pro motocross race at Washougal one year ago.
"I got a 1-5 for first which doesn't usually happen, but it feels good. I need to keep my focus on the championship and today was a good day for that. I hit the ground pretty good and I think I'm a little lucky because I was a little dizzy getting up. I honestly didn't even know I had the overall at the end so it was a good surprise."
Wharton brought home a pair of third place moto finishes to bring home second overall, his first career podium finish, while 250 class points co-leader Pourcel took home third overall (8-1). Through eight rounds, Dungey and Pourcel sit in a tie atop the standings. Dungey has four overall victories to Pourcel's two.
After a two-week break, the Lucas Oil AMA Pro Motocross Championship resumes with round nine on Saturday, August 15 from New Berlin, near New York for the Unadilla Retro National.
Results, Round 8 of 12:
450 Class (moto finish):
Chad Reed, Australia, Suzuki (1-1)
Josh Grant, Riverside, Calif., Yamaha (5-2)
Jason Lawrence, Carlsbad, Calif., Yamaha (10-3)
Justin Brayton, Murrieta, Calif., KTM (9-8)
Michael Byrne, Australia, Suzuki (15-4)
Jimmy Albertson, Ozark, Mo., Yamaha (8-10)
Nick Wey, Dewitt, Mich., Yamaha (13-6)
Tommy Hahn, Decatur, Texas, Kawasaki (2-38)
Ivan Tedesco, Tallahassee, Fla., Honda (11-11)
Clement Desalle, Belgium, Honda (3-25)
450 Class championship standings:
Chad Reed, Australia, Suzuki, 337
Josh Grant, Riverside, Calif., Yamaha, 272
Andrew Short, Smithville, Texas, Honda, 267
Ivan Tedesco, Tallahassee, Fla., Honda, 258
Michael Byrne, Australia, Suzuki, 207
Thomas Hahn, Decatur, Texas, Kawasaki, 171
Cody Cooper, New Zealand, Yamaha, 157
Justin Brayton, Murrieta, Calif., KTM, 152
Nick Wey, Dewitt, Mich., Yamaha, 149
Mike Alessi, Victorville, Calif., Suzuki, 142
250 Class (moto finish):
Ryan Dungey, Belle Plaine, Minn., Suzuki (1-5)
Blake Wharton, Pilot Point, Texas, Honda (3-3)
Christophe Pourcel, France, Kawasaki (8-1)
Brett Metcalfe, Australia, Honda (4-4)
Jake Weimer, Rupert, Idaho, Kawasaki (10-2)
Tommy Searle, Great Britain, KTM (6-6)
Broc Tickle, Holly, Mich., Yamaha (7-8)
Darryn Durham, Wildomar, Calif., Yamaha (5-10)
Max Anstie, Great Britain, KTM (9-9)
Kyle Cunningham, Ft. Worth, Texas, Kawasaki (2-34)
250 Class championship standings:
Ryan Dungey, Belle Plaine, Minn., Suzuki, 337
Christophe Pourcel, France, Kawasaki, 337
Brett Metcalfe, Australia, Honda, 251
Tommy Searle, Great Britain, KTM, 243
Jake Weimer, Rupert, Idaho, Kawasaki, 215
Justin Barcia, Cairo, Ga., Honda, 210
Broc Tickle, Holly, Mich., Yamaha, 199
Blake Wharton, Pilot Point, Texas, Honda, 198
Tyla Rattray, South Africa, Kawasaki, 175
Photo by Big Joe, www.BikesportNZ.com