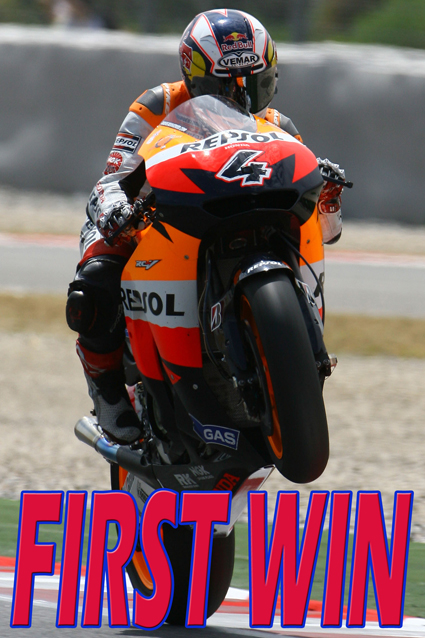 Italian Honda rider Andrea Dovizioso won his first MotoGP race at the weekend in the final British Grand Prix at Donington Park in England.
The 23-year-old took advantage after Yamaha duo Valentino Rossi, who started from pole position, and Jorge Lorenzo both crashed while leading in front of nearly 90,000 fans at this 10th round in the championships.
Rossi was able to remount his bike and finish fifth to increase his championship lead over the second-place Lorenzo to 25 points.
American Colin Edwards took second in the race for Yamaha, with Randy De Puniet of France coming third for Honda.
Casey Stoner, the 2007 world champion, finished 14th, while Britain's James Toseland came sixth.
The inclement weather which had blighted the whole weekend again caused drama as Ducati pair Nicky Hayden and Stoner started with wet tyres on a dry track.
However, the rain held off until light showers near the end and Stoner soon found himself at the back of the field with Toni Elias, who qualified eighth, the surprise leader through the first two laps.
Lorenzo soon took the lead before Elias crashed after drifting on to the wet kerbs at Starkey's Bridge.
Lorenzo crashed out on the eighth lap and was forced to retire.
Rossi appeared set for a routine win but then crashed with 11 laps left.
"It was a mistake for sure, the other laps I didn't catch the line… it was impossible to keep on the track," Lorenzo said.
"Today would be a real possibility to win some points but we lost the opportunity. Valentino's crash helped us a little bit."
"I keep thinking our goal is not to win the championship, if we are third or second it is a good result for us. If we can win it is unbelievable, but it is not our goal," Lorenzo added.
Earlier, Hiroshi Aoyama won the 250cc race while Julian Simon won a rain-interrupted 125cc race.
The riders now enjoy a three-week break before the next race in Brno, Czech Republic on August 16.
Race results, round 10:
1      Andrea Dovizioso
2      Colin Edwards     +1.360
3      Randy De Puniet +1.600
4      Alex De Angelis +8.958
5      Valentino Rossi   +21.622
6      James Toseland +22.465
7      Marco Melandri    +35.284
8      Niccolo Canepa   +38.769
9      Daniel Pedrosa    +42.112
10     Mika Kallio +45.845
Standings after the British MotoGP:
1      Valentino Rossi   187.0
2      Jorge Lorenzo     162.0
3      Casey Stoner      150.0
4      Daniel Pedrosa    115.0
5      Colin Edwards     103.0
6      Andrea Dovizioso 94.0
7      Marco Melandri    79.0
8      Randy De Puniet 74.0
9      Chris Vermeulen  67.0
10     Loris Capirossi    66.0
11     Alex De Angelis   60.0
12     James Toseland  55.0
13     Toni Elias   47.0
14     Nicky Hayden      47.0
15     Mika Kallio 34.0
16     Niccolo Canepa   28.0
17     Sete Gibernau     12.0
18     Yuki Takahashi   9.0
19     Gabor Talmacsi   5.0