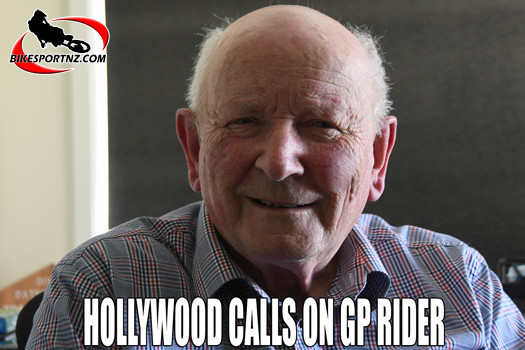 Woodville Motocross founder Tim Gibbes' motorcycling experiences have been as diverse as they have been thrilling and also involved a major Hollywood film production.
Sadly, Motorcycling New Zealand Life Member and Hall of Fame member Tim Gibbes passed away last month, aged 90, just three months before could once more celebrate and enjoy the iconic event he had created, the New Zealand Motocross Grand Prix at Woodville. His wife Joan had passed away exactly a month earlier.
Today, in the second of three parts of our video interview with Tim Gibbes, he talks about the time that Hollywood knocked on his door.
Aside from establishing the Woodville Motocross in New Zealand in 1961 – something that could be similar, he believed, to the Grand Prix events at which he was racing in Europe around that time – Gibbes was still at this time very busy with racing and bike testing for various factories around the world … and then an American film studio came to him with a request.
In 1962, a Hollywood film crew arrived in southern Germany to begin filming the World War II movie classic The Great Escape.
The marathon 2-hour and 48-minute movie featured only about five minutes of motorcycle action in it, but what great action it was. Gibbes was friendly with one of the American stuntmen, Bud Ekins, and was hired as a stand-in for several of the action shots, including some played by a young actor called Steve McQueen.
The iconic war film, loosely based on true events (apart from the motorcycle chase scenes, which were actually all fictional), also starred Hollywood A-list actors Donald Pleasance, James Garner, Richard Attenborough, James Donald, Charles Bronson, David McCallum, Gordon Jackson and James Coburn.
The film required McQueen's character, a hard-case habitual POW escaper, to "borrow" a motorcycle from a passing German soldier and then hare through towns and across the countryside before leaping the stolen motorcycle over a tall barbed-wire fence. It was Ekins who did the "wire fence jump shot" in the film, but Gibbes' main stunt scene was just as risky.
Shown here below is a photo taken during the film's making, shot after the stunt completed by Tim Gibbes during the making of The Great Escape, the scene where McQueen "acquires" the motorcycle.
It involved Gibbes riding the bike, dressed as a German soldier, who is then brought down by McQueen's character who has strung a wire across the road.
"My first run I dropped the bike and slid along the road as requested by the director," said Gibbes.
"But I slid too far in a shower of sparks and hit the camera and its operator.
"While the medics attended to the camera man (they said I'd broken his leg, but that may have been a Hollywood term for a bit of a bruise) I quietly dissolved behind the crowd knowing that my role as a stunt man in the film was over.
"Then I heard Jack Reddish, the assistant director, call out 'Gibbes, Gibbes come back here'.
"He explained, 'Can you imagine how that would look in the film theatre when the motorcycle would slide along in a shower of sparks into the audience. Do it again', he said, 'but this time we'll lift the camera a little higher and you slide under it', which I duly did.
"McQueen was a typical young American Hollywood star … brash and a bit of a show-off. But I did meet him again a few years later and he'd mellowed. He'd become a much more genuine person."
Listen here to the second in our series of interviews with Tim Gibbes, the founder of the Woodville MX.
Today the then 87-year-old chats with BikesportNZ.com about his Hollywood experience.
© Words and main photo by Andy McGechan, BikesportNZ
Find BikesportNZ.com on FACEBOOK here