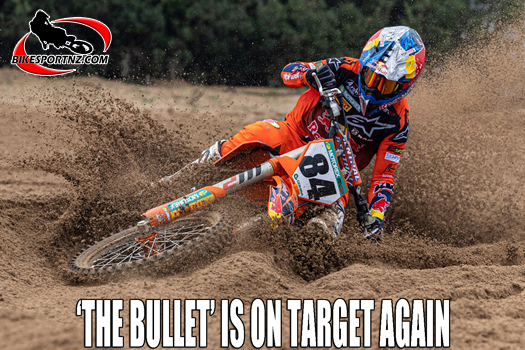 Dutchman Jeffrey Herlings hasn't raced GP motocross is more than a year due to injury, but you wouldn't have known it going by his performance at the 2023 season opener in Argentina last weekend.
The rider known as "The Bullet" finished second overall and he headed to the deep sand of Sardinia for round two at the weekend with a great shot at grabbing the red plate from RedBull GasGas Factory Racing's Jorge Prado.
Despite his stunning results in Argentina, Red Bull KTM Factory rider Herlings said he hadn't been keen in the early hours of the weekend.
"I was just so scared something would happen and I made it way more difficult for myself. I actually got a good start and shut off, but then there were guys on my right, on my left, guys hitting each other, hitting me.
"Because I was mid-pack, it was chaos there. I was just too cautious. On Sunday in Argentina I told myself, let's just make it happen. I took a good start and was up with the top guys. I was a bit off, but I was pretty happy with what happened there."
Despite his trepidation at Argentina on Saturday, the Dutchman quickly came back Sunday morning to his old self in the second race. It wasn't a heat win, but his second place behind GP winner Ruben Fernandez (Honda) was special to watch.
"I felt all day that I had the speed to win, but my fitness condition was difficult at times. The track is sketchy, and I couldn't last with that speed for the whole race. I don't know man, but you don't want to be me tomorrow morning when I try and get out of bed. You will need something to get me out of bed. I really don't know how I got it done. Throughout the weekend I got better, but Saturday, I was really like, this is not Jeffrey Herlings, this is not how I want to get it done.
"The first race back in 10th was just a shame. Going into Sunday in Argentina, I figured I could get around fifth and I would do everything possible to get there, then to finish 4-2 is pretty good. I was like 10 seconds off the pace at some point and I didn't have the speed of Maxime Renaux in the first race or Ruben in the second, but I wasn't far off and we will get there."
Now he's in Sardinia and a track that should suit Herlings and, without question, he will likely be better prepared for that intensity he talks about.
He's racing in Sardinia today (NZ time) and it could well be the five-time World Champion's 100th Grand Prix victory. Now, that would really cause a lot of worry from his competition.
STANDINGS AFTER ROUND 1:
MXGP – World Championship Top 10 Classification:
1. Jorge Prado (ESP, GAS), 50 points; 2. Ruben Fernandez (ESP, HON), 48 p.; 3. Romain Febvre (FRA, KAW), 44 p.; 4. Jeffrey Herlings (NED, KTM), 41 p.; 5. Maxime Renaux (FRA, YAM), 40 p.; 6. Pauls Jonass (LAT, HON), 36 p.; 7. Mattia Guadagnini (ITA, GAS), 33 p.; 8. Calvin Vlaanderen (NED, YAM), 26 p.; 9. Glenn Coldenhoff (NED, YAM), 25 p.; 10. Jeremy Seewer (SUI, YAM), 24 p.
MX2 – World Championship Top 10 Classification:
1. Jago Geerts (BEL, YAM), 60 points; 2. Andrea Adamo (ITA, KTM), 49 p.; 3. Thibault Benistant (FRA, YAM), 41 p.; 4. Simon Laengenfelder (GER, GAS), 37 p.; 5. Kevin Horgmo (NOR, KAW), 36 p.; 6. Roan Van De Moosdijk (NED, HUS), 36 p.; 7. Rick Elzinga (NED, YAM), 33 p.; 8. Kay de Wolf (NED, HUS), 31 p.; 9. Liam Everts (BEL, KTM), 31 p.; 10. Jan Pancar (SLO, KTM), 20 p.
Words courtesy Geoff Meyer and photo courtesy KTM
Find BikesportNZ.com on FACEBOOK here