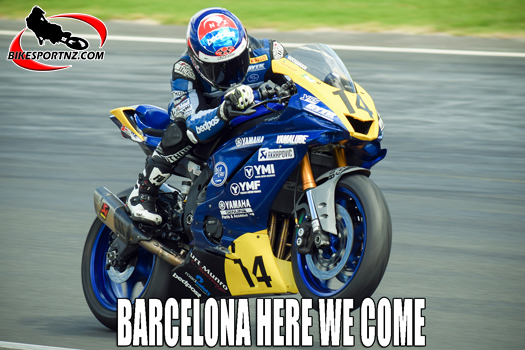 It's a long way from New Zealand to Spain, but that's the next journey that awaits Invercargill's Cormac Buchanan in the coming days.
The 16-year-old spent a large part of the past two years based in Spain and racing major international motorcycle events and he's set for more of the same this season too.
Shortly after the engines are turned off at the Taupo International Motorsport Park and Events Centre on Sunday afternoon – scene for the sixth and final round of this season's New Zealand Superbike Championships – he's making a beeline for Auckland International Airport, destination Barcelona.
Hopefully he'll have a couple of major trophies to take with him (or perhaps not, because leaving them at his parent's Southland home seems a more likely option).
He has already wrapped up the Supersport 300 title, clinching that at the previous round at Hampton Downs last weekend, and he's in prime spot to make it two titles if he can overtake fellow South Islander Jake Lewis and steal off with the Supersport 600 title this weekend.
"I'm surprised with how well I've gone this season. With the 300 class I sort of expected it, but with the 600cc class definitely not. It was only my second time at Hampton Downs."
He won the 300cc title last year too and his title defence this season has certainly been comprehensive, to say the least – he hasn't lost a single race in this class as he heads to Taupo's final showdown.
"To get P1 in qualifying and then go fastest in all sessions was certainly a confidence booster for me in the 600 class.
"I'll be based in Barcelona. I leave on Sunday night after Taupo and race in Portugal on the Tuesday, so not a lot of time to relax or even just to get there really.
"I'll be racing in the Red Bull MotoGP Rookies' Cup as well as the Junior Moto3 world championships."
Following hard in the wheel tracks of Kiwi road-racing internationals such as Hugh Anderson, Graeme Crosby, Richard Scott, Andrew Stroud, Simon Crafar, Sean Harris and Bruce Anstey, to name a few, it looks as though Buchanan may be about to become New Zealand's next big thing on the world stage.
He's certainly heading in the right direction.
© Words and photos by Andy McGechan, BikesportNZ
Find BikesportNZ.com on FACEBOOK here