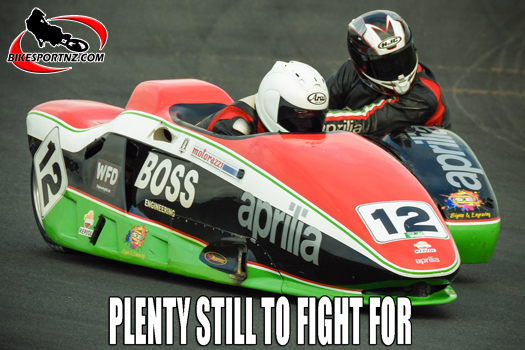 Taupo will be motorcycling's centre of excellence this coming weekend as the nation's elite road-racers converge on the Taupo International Motorsport Park and Events Centre for the final showdown in this season's New Zealand Superbike Championships.
Two of the seven classes have already been decided in the AON Insurance and Pirelli-sponsored series, but this sixth and final round of the 2022-23 season at Taupo, this Saturday and Sunday (March 11 and 12), is still sure to be a cracker.
Whakatane's Mitch Rees (1000cc Superbike class) and Invercargill's Cormac Buchanan (Supersport 300 class) were able to celebrate successful 2022-23 nationals campaigns with a round to spare when they dominated and clinched the titles in their respective classes at round five of the series at Hampton Downs, near Meremere, last weekend.
Both of these two riders have a must-win mentality and have already indicated that it's not in their nature to take things easy, so fireworks can still be expected in both the Superbikes and Supersport 300 classes this weekend, with their rivals sure to try and make things hot for them.
A few of the other classes are nowhere near being decided and it could take just one spark of brilliance or moment of madness to tip the balance of power one way or the other.
Class leaders after Hampton Downs are Rangiora's Jake Lewis (Supersport 600); Whitby's Dave Fellows (Pro Twins, post-2020 bikes); Waiuku's Bob Irving (Pro Twins, pre-2020 bikes); Panmure's Adam Unsworth and Whanganui's Bryce Rose (F1 Sidecars, main photo above); Albany's Mark Halls and Geoff Davies (F2 Sidecars) and the battle to clinch championship honours remains tight for these riders.
The Formula One Sidecars class could be very special indeed, with defending champions Barry Smith (Tokomaru, driver) and Stu Dawe (Auckland, swinger) coming on strong to win the weekend at Hampton Downs and claw to within nine points of class-leading pair Unsworth (driver) and Rose (swinger).
"We got a good start to the championship at Manfeild (back in December)," said the just-turned 55-year-old Unsworth. "There wasn't much between us and Barry Smith and Stu Dawe at Hampton Downs and they just pipped us in qualifying.
"Actually it's interesting, but Stu (Dawe) and I won the championship together in 2015. But now we're rivals … friendly rivals of course."
This epitomises the camaraderie and family-like atmosphere too in the sidecars pits, with race crews often putting aside rivalries to step in to assist where required and this still does not lessen the intensity of the racing out on the track.
Meanwhile, the action is even closer in the Formula Two Sidecars class, with Auckland duo Halls (driver) and Davies
(swinger) leading by just four points from all-female Whanganui crew Tracey Bryan (driver) and Jo Mickleson (swinger).
Over in the strictly two-wheeled branch of the sport, Lewis leads the Supersport 600 class by just one solitary point from dual-class hero Buchanan, the Southland teenager keen to make it two class wins this season before he heads off to Barcelona, in Spain, and another season of international racing duties.
It is not quite so tight in the other classes, but the various leaders still can't afford to rest on their laurels just yet.
Fellows leads Otaki's Bruce Telford by 43 points in the Pro Twins (post-2020 bikes) class and Irving leads Auckland's Vaughan Maine by 47 points in the Pro Twins (pre-2020 bikes) class, although Maine is a non-starter after his massive crash last weekend and it will possibly be up to Whangamata's Jarad Horn, who is a whopping 68 points behind the leader, to keep Irving honest.
This season's national championship competition is supported by the following groups: Victoria MCC, Hampton Downs, Auckland MCC, MCI, Hamilton MCC, Southland Motorcycle Club, South Canterbury Motorcycle Club, Cemetery Circuit, Motorcycling New Zealand.
DATES FOR 2022-23 NZ MOTORCYCLE ROAD-RACE SEASON:
Suzuki International Series (and first two rounds of the nationals):
Round 1, Taupo, Dec 3rd and 4th (abandoned due to track conditions)
Round 2, Manfeild, Dec 10th and 11th
Whanganui's Cemetery Circuit, Dec 26th (third and final round of Suzuki International Series, but not part of the nationals)
South Island:
Round 3, Ruapuna, Jan 7th and 8th
Round 4, Teretonga, Jan 14th and 15th
North Island:
Round 5, Hampton Downs, part of MotoFest, Mar 4th and 5th
Round 6, Taupo, Mar 11th and 12th
© Words and photos by Andy McGechan, BikesportNZ
Find BikesportNZ.com on FACEBOOK here