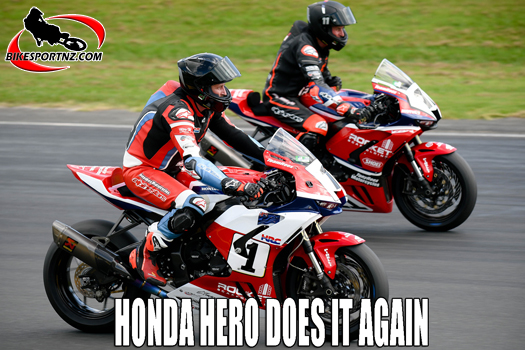 That's a wrap … Bay of Plenty's Mitch Rees has won the New Zealand Superbikes Championships with a round to spare.
The Motul Honda Racing Team rider from Whakatane won the glamour 1000cc Superbike title when the series was last raced in 2021, his first in the premier category, and now he's made it two title wins in a row and done it in convincing fashion.
With an off-season accident and the COVID-19 pandemic creating an unwelcome two-year hiatus for the talented sportsman, it would have been understandable if Rees was nervous about his title defence.
There was no evidence of that when he surged to three powerful wins at the weekend's fifth round of six in the series at the popular Hampton Downs circuit near Meremere.
By winning the doubly-significant third and final superbike race of the weekend, Rees also added the national TT title to his impressive career catalogue.
That unbeatable performance, coupled with the fact that his nearest challenger, Christchurch's Alastair Hoogenboezem, suffered a mechanical failure in the second race of the weekend, meant that Rees finished his weekend in an uncatchable position overall and he won't even have to show up at the sixth and final round at Taupo next weekend (March 11-12).
Of course he will be travelling to Taupo with his distinctive red Honda CBR1000RR-R and there he has plans to continue on with his race-winning habit.
It could be a father and son family affair in the chase for the weekend's superbike class honours at Taupo too, with Rees' multi-time championship-winning dad Tony Rees finishing the weekend second overall in the big bike class at Hampton Downs.
Tony Rees did not contest the two South Island rounds of the nationals, but he has been a standout in the North Island events and Taupo next weekend will be another eagerly-accepted opportunity for the 55-year-old to shine.
"I didn't think I was going to be able to wrap up the title at the Hampton Downs," said a gleeful Mitch Rees.
"It feels awesome to wrap it up here, especially having not won here before.
"Alastair (Hoogenboezem) and I have so much respect for one another. We were rubbing against one another going down some of the straights, but rubbing is racing, right?
"It was great having my dad on the race track with me too and we were both on the podium together, so that's pretty special."
Rees won his first New Zealand Superbike Championships title in the 2021 season and, because of the COVID-19 pandemic, he was forced to wait nearly two years before he could reaffirm his hold on the coveted 1000cc superbike title.
With the 2022 season abandoned due to the pandemic, organisers came up with a fantastic new-look six-round series that straddled the end of 2022 and continued on into the first few months of 2023.
But, when the engines were finally switched off at round five at Hampton Downs on Sunday afternoon, the 30-year-old Rees found himself an impressive 85 points in front of Hoogenboezem with just the Taupo event – including just three races for the superbike class – left to run.
Meanwhile, Southland's Cormac Buchanan was another rider to settle a championship fight a little early, the Invercargill teenager successfully completing his national Supersport 300 class title defence on Sunday.
Other class leaders heading to Taupo next weekend are Rangiora's Jake Lewis (Supersport 600); Whitby's Dave Fellows (Pro Twins, post-2020 bikes); Waiuku's Bob Irving (Pro Twins, pre-2020 bikes); Auckland's Adam Unsworth and Whanganui's Bryce Rose (F1 Sidecars); Albany's Mark Halls and Geoff Davies (F2 Sidecars).
The battle to clinch these championship honours remains unsettled and extremely tight for all of these riders.
The weekend's event at Hampton Downs had huge added significance too because it shared the programme with the fourth edition of the Star Insure MotoFest motorcycling festival, a massive extravaganza of everything related to bikes of all eras, all styles and all brands.
The MotoFest extravaganza promised and delivered excellence on all fronts, with well-respected identities from all segments of the motorcycle sporting community, coming together for the spectacular two days of action.
© Words and photo by Andy McGechan, BikesportNZ
Find BikesportNZ.com on FACEBOOK here