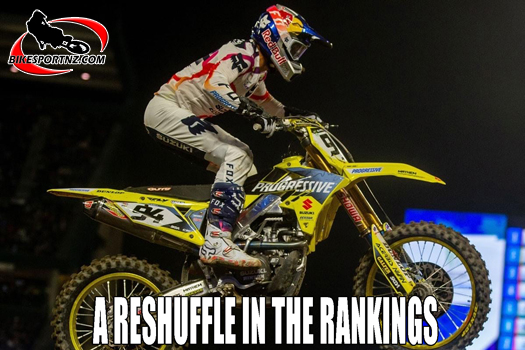 By winning his heat race and the main event, Eli Tomac had another perfect week in San Diego to stay atop the 2023 SuperMotocross rankings after San Diego while three of the top five 450 riders swapped positions.
Tomac won his heat convincingly with a two and a half second lead over second-placed Jason Anderson. But while the final results show Tomac with a 1.1 second gap ahead of Cooper Webb in the main event, the reality is that Webb was much closer in the closing laps as he worked traffic just a little better.
Hidden in the good news of his sweep of the first two weekends is that Tomac has not gotten off to a particularly strong start in the past couple of seasons.
He was sixth in A1 in 2022 and fourth the next week in Oakland. In 2021, he was 13th in the first round in Houston and fifth in round three there.
With Webb finishing second in both rounds of the Supercross season, Tomac has managed to create only a six-point differential between himself and the field, so he cannot afford to let up anytime soon.
Webb moves up a position this week partly because of problems affecting Chase Sexton.
Points are not paid until the chequered flag waves over the main, so Webb's consecutive second-place finishes is the number that matters most, but he has not been quite as strong in his heats as Tomac with a third- and fifth-place finish.
Considering how badly he struggled with the new KTM bike design in 2022, you are not hearing any complaints from the rider, however.
Germany's Ken Roczen (pictured here) is also figuring out a new bike with his switch from Honda to Suzuki in 2023.
Unlike Webb, his Heats have been stronger than the mains with runner-up finishes in the prelims at Anaheim and San Diego.
Meanwhile, his mains have been impressive enough with a pair of top-five finishes. If he continues to improve his feature results, he will quickly be talked about as one of the riders chasing the SuperMotocross championship.
With a sixth-place finish in last week's main event, Frenchman Dylan Ferrandis lost ground to the top three riders, but he remains fourth in the SuperMotocross rankings after San Diego because of Sexton's failure to finish his heat.
Sixth is Ferrandis' low water mark, however, as he swept the top five in both heats and finished fourth in A1.
Anderson improved one position from sixth to fifth in the rankings largely on the strength of last week's second-place finish in his heat.
It didn't come without controversy, however, and he knocked Justin Barcia to the ground while completing the pass. After that race, he waited for Barcia in the tunnel and lashed his competitor with some choice words not often found in dictionaries.
As for Sexton, troubles in his heat relegated him to last place in that race and forced him into Last Chance Qualifier (LCQ).
He finished respectably in the main with a fifth, but the damage was already done in the rankings. He fell from second in the rankings to ninth, but fans can expect him to climb next time out with solid results in both Anaheim 2 races.
STANDINGS AFTER ROUND TWO:
450SX Class Championship Standings:
1 Eli Tomac, Cortez, Colo., Yamaha (52)
2 Cooper Webb, Newport, N.C., KTM (46)
3 Chase Sexton, Clermont, Fla., Honda (39)
4 Ken Roczen, Clermont, Fla., Suzuki (37)
5 Dylan Ferrandis, Tallahassee, Fla., Yamaha (36)
6 Justin Barcia, Greenville, Fla., GASGAS (33)
7 Jason Anderson, Rio Rancho, N.Mex., Kawasaki (32)
8 Adam Cianciarulo, New Smyrna Beach, Fla., Kawasaki (29)
9 Aaron Plessinger, Hamilton, Ohio, KTM (29)
10 Colt Nichols, Murrieta, Calif., Honda (28)
Western Regional 250SX Class Championship Standings:
1 Jett Lawrence, Zephyrhills, Fla., Honda (52)
2 RJ Hampshire, Minneola, Fla., Husqvarna (46)
3 Cameron McAdoo, Sioux City, Iowa, Kawasaki (42)
4 Enzo Lopes, Chesterfield, S.C., Yamaha (36)
5 Mitchell Oldenburg, Godley, Tex., Honda (35)
6 Stilez Robertson, Bakersfield, Calif., Yamaha (31)
7 Phillip Nicoletti, Bethel, N.Y., Yamaha (30)
8 Derek Kelley, Riverside, Calif., KTM (27)
9 Dylan Walsh, Wildomar, Calif., Kawasaki (24)
10 Cole Thompson, Brigden, Ont., Yamaha (23)
Photo courtesy Suzuki
Find BikesportNZ.com on FACEBOOK here