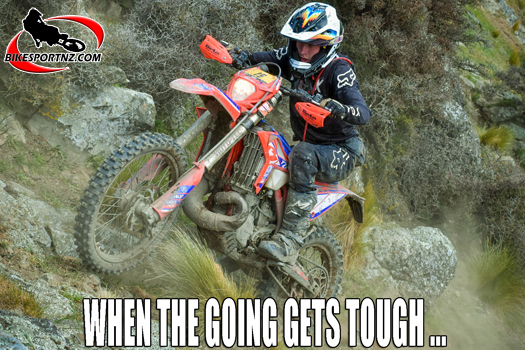 Just when it looked a foregone conclusion that Wainuiomata's Jake Whitaker would again win the main prize, up steps Whitecliffs rider Luke Corson.
With two wins from two starts in the elite Gold Grade at the previous rounds, it would be an easy assumption to make that Whitaker would dominate again in Canterbury at the weekend.
However, South Islander Corson (pictured here) had other ideas.
Ranked fourth overall after the first two of four rounds in this year's Yamaha-sponsored New Zealand Extreme Off-Road Championship series, Corson (Beta RR300) defied the odds to win the day at round three, the renowned Nut Buster hard enduro that was held at Mt Selfe, Hawerden, just outside Christchurch, on Saturday.
However, Whitaker (KTM 300 EXC) easily did enough to retain the series lead by finishing runner-up to Corson on Saturday – albeit crossing the finish line 13 minutes behind his surprise adversary – and that was actually enough for Whitaker to again win the series outright, this time with a round to spare.
Whitaker won this series overall in 2019 and again last year and his credentials as a record eight-time New Zealand trial champion – a parallel motorcycling code where the emphasis is on balance and throttle control rather than pure speed – add to the air of invincibility that surrounds him.
But Corson surely gave that reputation a knock with his performance at the weekend when he won the Nut Buster.
Fellow Canterbury man Ben Dando had won the stadium-style Enduro X Prologue event inside the Christchurch A&P Showgrounds on Friday evening, with Whitaker runner-up, while Omihi's Ethan McBreen and Queenstown's Scott Columb rounded out the top four.
Friday's preliminary event was to determine the starting order for the following day.
The 19-year-old Corson, a farmhand at nearby Darfield, had finished only seventh in the prologue on Friday, but he was seemingly unstoppable at Hawerden on Saturday.
"It was certainly a good day for me," said Corson afterwards.
"There were definitely some hard sections, but I had the advantage of local knowledge and knew what tyres to use. I was pretty surprised at the Nut Buster result. I really had no expectations that I could beat these guys."
However, as it turned out, with Whitaker finishing runner-up on both days, Columb registering 4-3 results, Corson recording a 7-1 score-card and Dando claiming 1-8, Whitaker's 2-2 finishes were therefore enough to give him overall honours for the weekend and also claim overall honours for the championship.
In the Silver Grade, best finishers on Saturday were Auckland's Ryan Hayward, Amberley's Archer Pascoe and Queenstown's Regan Cornelissen, while the best of the Bronze Grade riders on Saturday were Dannevirke's Anders Easton, Queenstown's Simon Smith and Te Awamutu's Graham Ramsey.
Only three of the four rounds of the championship are to be counted, with riders to discard their one worst score from the three North Island rounds, so the weekend's two-day contest in Canterbury was a hugely significant one in the overall scheme of things.
Despite the "glitch" in not winning both days in Canterbury, Whitaker has again proved himself the country's pre-eminent extreme enduro exponent.
Motorcycling New Zealand enduro commissioner Justin Stevenson said the series had been attracting "huge numbers of riders" and it now seems every one of them needed to be respected.
"Congratulations to Jake for winning the title. I'm really pleased to see Ben Dando and Luke Corson up top in the results after all the efforts they've been putting in over the past few years.
"It's great to see fresh names appearing on the top of the score sheets. The sport is in a very healthy state and the talent runs deep in New Zealand," he said.
Stevenson said the aim of the Extreme Off Road Championship Series was to provide events that are designed using the available terrain to be extremely challenging for the riders and an ultimate test for the riders' ability and skills.
The final round of the series is set for Whitaker's "back yard", in Moonshine Valley, near Judgeford and Porirua, on November 27.
Although the main prize has been claimed already, there are still the rest of the podium positions to scrap over and there still need to be winners found in the silver, bronze, women's and junior categories.
The 2022 Yamaha NZ Extreme Off-Road Championships are supported by Mitas tyres, Macaulay Metals, Silver-bullet and Kiwi Rider magazine.
2022 Yamaha NZ Extreme Off-Road Championship calendar:
Round one: September 13, Moonshine Extreme, Bulls Run Rd, Porirua;
Round two: September 25, Taungatara Forest, Whangamata;
Round three: November 11-12, Enduro X & Nut Buster, Christchurch;
Round four: November 27, Moonshine Extreme, Bulls Run Rd, Porirua.
© Words by Andy McGechan, www.BikesportNZ.com
Photo by Kat Gunson, www.BikesportNZ.com
Find BikesportNZ.com on FACEBOOK here