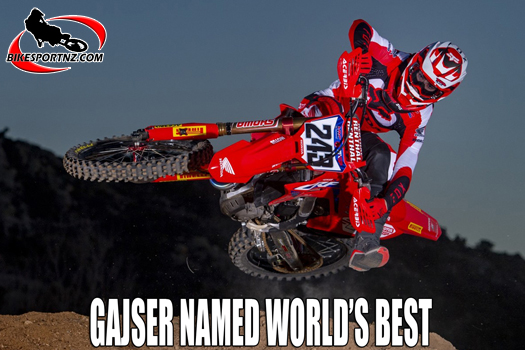 Slovenian Tim Gajser has been named Best Rider of the Year in the motocross world championships, although it's noted that he won't be at the biggest single motocross event of the year in less than two weeks' time.
Slovenia won't have a team at the big annual Motocross of Nations in the United States at the end of September and so we're unlikely to see the 25-year-old race again now until the start of the next GP season.
Throughout this year, Grand Prix fans have had the opportunity to vote for the 'Best Rider of the Year', sponsored by Athena, in the MXGP category, with the votes tallied at every GP.
A rider of the GP was chosen during each event in 2022 and the rider who received the most points by the end of the season was declared the winner and got to walk away with the ultimate prize and be presented with the special award for 'Best Rider of the Year'.
At every GP a dedicated post was shared on MXGP's official Instagram page under which fans were able to comment who their favourite rider of the weekend was.
The comments were then counted and the rider with the most votes was chosen as the best rider of that GP.
At the season finale in Turkiye, Team HRC's Gajser was voted the Best Rider at the Bitci MXGP of Turkiye after receiving 45.9% of the votes compared to iXS Hostettler MXGP's Valentin Guillod and Red Bull GasGas Factory Racing's Jorge Prado who each received 29.4% of the votes.
This season, Gajser headed the competition from the very beginning and by the end of the championship collected 12 points ahead of Monster Energy Yamaha Factory Racing's Jeremy Seewer who tallied up 3 points ahead of Prado, Gebben Van Venrooy Yamaha Racing's Calvin Vlaanderen and Standing Construct Husqvarna Factory Racing's Brian Bogers who all had one point each.
Gajser was presented with the cheque for winning the competition at the annual MXGP Awards.
"It's really cool for Athena and MXGP to set up a contest like this and I'm really happy to win it!" said Gajser.
"Of course, this would not be possible without all of the fans that have voted for me every GP you know, so really, I must thank them for the support and for this award!"
Photo courtesy Honda
Find BikesportNZ.com on FACEBOOK here