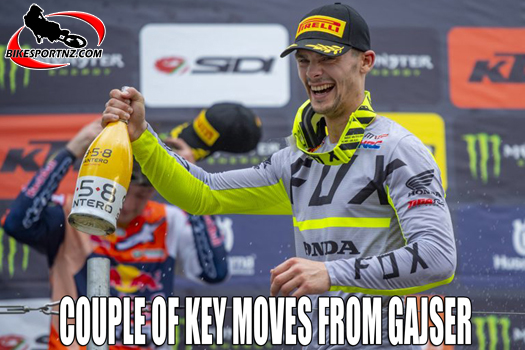 Watch as Slovenian defending world champion Tim Gajser makes a crucial pass on former world champion Romain Febvre in the German MXGP at the weekend.
The pass allowed Gajser to take third in race one and he then made the same move in race two, again on French rider Febvre, to take the overall victory on the day and get the points lead back by two over Dutchman Jeffrey Herlings.
And all of this was just three weeks after Gajser had broken his collarbone.
"I'm so happy with how things went today, to come here just three weeks after surgery and get the moto win, the overall and the red plate is more than I could have hoped for coming into this weekend," said Gajser.
"In both races I got good starts and that put me in a position to challenge for victory. I had good lines and although I felt I was fast enough to finish further forward in race one, third was still a good result.
"In race two, I had another good battle, but this time I could make the pass for the lead and win the race and it was just amazing to cross the line in first. I knew I was feeling better after two weeks of recovery since Sardinia so now, I will try to keep this momentum as we go to a new track in France next weekend.
Photo courtesy HRC Honda
Find BikesportNZ.com on FACEBOOK here
STANDINGS:
MXGP – World Championship Top 10 Classification:
Tim Gajser (SLO, HON), 415 points; 2. Jeffrey Herlings (NED, KTM), 413 p.; 3. Romain Febvre (FRA, KAW), 407 p.; 4. Jorge Prado (ESP, KTM), 384 p.; 5. Antonio Cairoli (ITA, KTM), 353 p.; 6. Jeremy Seewer (SUI, YAM), 309 p.; 7. Pauls Jonass (LAT, GAS), 287 p.; 8. Glenn Coldenhoff (NED, YAM), 263 p.; 9. Alessandro Lupino (ITA, KTM), 195 p.; 10. Ben Watson (GBR, YAM), 192 p.
MX2 – World Championship Top 10 Classification:
Maxime Renaux (FRA, YAM), 448 points; 2. Jago Geerts (BEL, YAM), 363 p.; 3. Mattia Guadagnini (ITA, KTM), 351 p.; 4. Jed Beaton (AUS, HUS), 324 p.; 5. Tom Vialle (FRA, KTM), 322 p.; 6. Thibault Benistant (FRA, YAM), 307 p.; 7. Rene Hofer (AUT, KTM), 303 p.; 8. Kay de Wolf (NED, HUS), 301 p.; 9. Ruben Fernandez (ESP, HON), 251 p.; 10. Mathys Boisrame (FRA, KAW), 223 p.