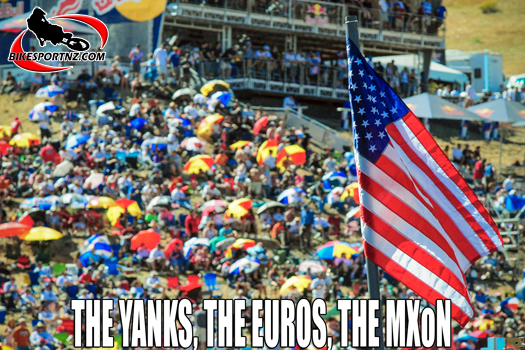 The Americans have said they'll be going to the Motocross of Nations this year and that's probably news welcomed by many fans of the sport.
But isn't it just typical that they will choose to attend the MXoN in Italy this year … just as everything lines up to favour them, while most other countries will be hampered?
The 2021 MXoN is scheduled to take place in Mantova, in Italy, on September 25-26, two weeks after the domestic season in the US has wrapped up.
That's just fine for the Americans, who will have nothing left to play for in terms of individual titles and can focus totally on a team effort in an MXoN campaign.
It's liable to be a massive problem for most of the other countries likely to participate – this year's MXoN happening midway through the pandemic-affected Motocross World Championships season.
The MXoN will not be the traditional final big inter-country showdown to wrap up the season globally, when riders will have finished their campaigns and either commiserated over or celebrated their completed world championship bids, when the three-rider national teams can therefore relax and focus properly on an MXoN glory-hunt.
The Americans are normally reluctant to travel halfway across the planet to race the world's elite, but this year it will certainly not suit the vast majority, the world championship teams and their riders.
Even the smaller countries, like New Zealand, are likely to think twice because of COVID-19 pandemic quarantine demands and because they typically struggle, even in the best of times, to conjure up three truly world-class riders from their relatively small pool of talent (New Zealand with a population of 4 million, compared to 17.3 million for the MXoN-winning country from the last time the event was staged, in 2019, The Netherlands; 67 million for France; 60.3 million for Italy and 328 million for the USA, for example).
The big question here is will the European-based factory teams release their riders to take part in an event that really offers bragging rights only? There's no prize-money at the MXoN, just kudos for the winning individuals and/or their countries.
Manufacturer teams, their sponsors and their sales markets have little to gain from any particular nation winning the MXoN. They want their team's bike brand or team's naming rights sponsors to have the spotlight, not a mix and match of three riders, often on a variety of brands, there just to represent their nation.
There are still seven GPs still scheduled to run after the MXoN weekend thanks to the late start to the GP season this year, forced on the FIM by the COVID-19 pandemic, which, incidentally, still ravages the globe (in the USA, UK and other countries too).
Will the factory teams allow their riders to represent their respective countries during what will now actually be the middle of the GP season?
Any team which has a rider close to securing a world title, or at least with a good chance of finishing among the top three, would be highly reluctant to back an MXoN bid.
The 11th round of 18 in the Motocross World Championships, the MXGP of Germany, is set to run just seven days after the MXoN … woe betide any GP rider who injures himself at the MXoN.
The Americans have, on several occasions in the past, not needed too much of an excuse not to go to the MXoN when it's staged in Europe, or perhaps have sent only a "B" team.
The participation of Team USA is so important for many who would say that this "Olympic Games of Motocross" is incomplete without them, but perhaps running this event should regarded with the same distain that the other Olympics (set for Tokyo, starting July 23) is currently being regarded.
Actually, the Tokyo Olympics will have zero spectator crowds. Will the MXoN be similarly restricted?
Mike Pelletier, the director of racing for the American Motorcyclist Association (AMA), was on hand at the RedBud, Michigan round of the AMA outdoor nationals and drummed up interest from race teams in Pro Motocross about the international competition, which did not occur in 2020 because of the pandemic.
Although it's still very early in the summer, Pelletier said that feedback was strong and that a few US riders have already made comments about being part of the three-man line-up (see video below).
© Photos by Andy McGechan, BikesportNZ
Find BikesportNZ.com on FACEBOOK here 
MXGP & MX2 World Championships 2021:
Rnd 1. 13 Jun, MXGP of Russia, Orlyonok;
Rnd 2. 27 Jun, MXGP of Great Britain, Matterley Basin;
Rnd 3. 04 Jul, Monster Energy MXGP of Italy, Maggiora;
Rnd 4. 18 Jul, MXGP of The Netherlands, Oss;
Rnd 5. 25 Jul, MXGP of Czech Republic, Loket;
Rnd 6. 01 Aug, MXGP of Flanders-Belgium, Lommel;
Rnd 7. 08 Aug, MXGP of Latvia, Kegums;
Rnd 8. 22 Aug, MXGP of Finland, Iitti-KymiRing;
Rnd 9. 05 Sep, MXGP of Turkey, Afyonkarahisar;
Rnd 10. 19 Sep, MXGP of Sardegna (ITA), Riola Sardo;
MXoN WEEKEND on Sept 25-26, in Mantova, Italy.
Rnd 11. 03 Oct, MXGP of Germany, Teutschenthal;
Rnd 12. 10 Oct, MXGP of France, Lacapelle-Marival;
Rnd 13. 17 Oct, MXGP of Spain, intu Xanadú – Arroyomolinos;
Rnd 14. 24 Oct, MXGP of Portugal, Agueda;
Rnd 15. 31 Oct, MXGP of Trentino (ITA), Pietramurata;
Rnd 16. 14 Nov, MXGP of Argentina, TBA;
Rnd 17. Nov, MXGP of Asia (Indonesia), Borobudur;
Rnd 18. 05 Dec, MXGP of Indonesia, Bali.