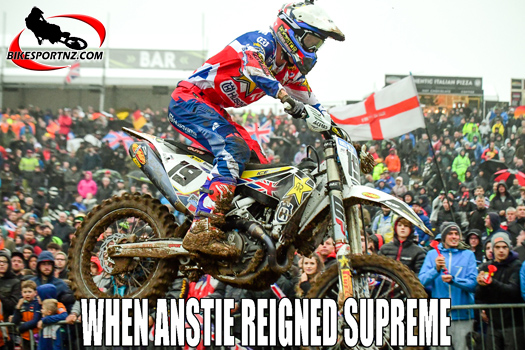 Britain's Max Anstie was king for a day at a muddy Motocross of Nations in early October September 2017.
Staged on his home turf at Matterley Basin, just outside Winchester, it probably comes as no surprise that he was spurred on greatly by the parochial crowd, but, in fairness, he'd already shown his winning potential when he'd raced to victory during qualification day at the final Grand Prix of the year in France just two weeks earlier.
The British fans really get into this MXoN thing – air horns blared and chainsaws barked throughout the event and were like a Mexican wave of sound when Anstie was on track, the cacophony of sound heralding his progress every lap as he became the only rider to win more than one moto on race day.
To the crowd's delight, Anstie fended off the advances of Slovenia's Tim Gajser and Frenchman Gautier Paulin in the MXGP/MX2 race and then batted away the probing attacks of Frenchman Romain Febvre and Dutchman Jeffery Herlings in the MXGP/Open Class race that wound up the day.
And so, the various class winners at the 2017 MXoN were Anstie, with his 1-1 in the MXGP class, Herlings, who finished 1-2 for the Open class and young Australian Hunter Lawrence, with 4-8 in the MX2 class.
Anstie was certainly king that day.
He has been racing the supercross champs in the United States this year, but that's nothing like GP motocross is it?
You can bet though that these video clips from the 2017 MXoN will be among Anstie's career highlight clips.
For the record, Team New Zealand that year (Cody Cooper, Hamish Harwood and Josiah Natzke) ended up in the B final and finished 21st overall of the 38 nations represented.
© Words and photo by Andy McGechan, www.BikesportNZ.com
Find BikesportNZ.com on FACEBOOK here