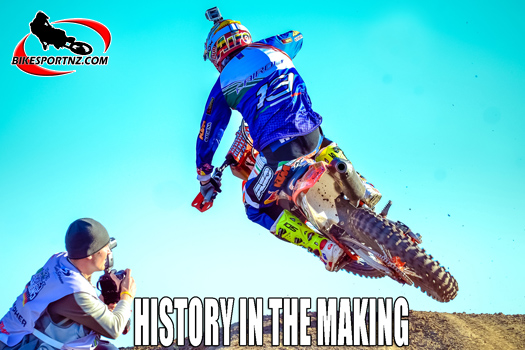 Changes are likely in the all-time list of champions when the MXGP series wraps up at the end of this season.
Starting next month in Russia, the greatest field of Grand Prix riders will go head-to-head for the title of 2021 FIM Motocross World Champion, the biggest prize in the sport.
When you consider the four riders with multiple world championships, Antonio Cairoli, Jeffrey Herlings, Tim Gajser and Jorge Prado are all on the cusp of moving up the all-time rankings list, a list full of the legends of our sport.
Of course, Italian Cairoli, who has nine world championships could extend his career by a couple of seasons with another world title, but more importantly, he can also join Belgian legend Stefan Everts at the very top of the world motocross championship winner's tree.
Everts, who retired back in 2006, some 14 years ago has been sitting and watching as Cairoli logged up championships throughout the early 2000's, with titles in 2005, 2007, 2009, 2010, 2011, 2012, 2013 and 2014.
It seemed as if that 10th World title for the Italian would come quickly, but injuries slowed his progress, and it was only in 2017 that he scored his ninth world championship.
Cairoli can also join Everts at the top of the GP winners list, with 92 Grand Prix's to his name already he would need a stellar season to join or pass Everts 101 Grand Prix victories, but anything is possible when you mention the name Cairoli.
Since that 2017 victory by Cairoli, Gajser and Herlings have dominated MXGP, Gajser winning in 2016, 2019 and 2020 and Herlings winning in 2018.
Both these riders have the potential to become five-time World Motocross Champions in 2021 and if either does that, they will join a very impressive list of riders in Eric Geboers, Georges Jobe, Joel Smets and Roger De Coster with five titles. Pretty impressive, isn't it?
Gajser could also become just the 10th rider in the sports history to win three World Motocross Championships in a row if he can add the 2021 championship to his 2019 and 2020 titles.
He would join the likes of Joel Robert, Roger De Coster, Heikki Mikkola, Harry and Stefan Everts, Greg Albertyn, Gaston Rahier, Alessio Chiodi and Antonio Cairoli. Not a bad list, is it?
As for Herlings, a fifth world title is on the line and with 90 Grand Prix victories, he can not only join that impressive list of five-time World Champions but has a great shot at passing Stefan Everts 101 Grand Prix victories. It will take a 2018 effort from Herlings, but we all know, if he stays fit, he usually wins in bunches. A fifth world title and more than 101 GP wins would without question place the Dutchman right up there with the greatest of all-time.
Then we have Prado, the new kid on the block, who has two MX2 World Championships to his name, and if he scored a third championship in 2021, he'd join names like Gaston Rahier, Alessio Chiodi, Greg Albertyn, Paul Friedrichs, André Malherbe, David Thorpe and Guennady Moisseev as three-time World Champions.
Of course, serious contenders like Jeremy Seewer, Glenn Coldenhoff, Romain Febvre, Pauls Jonass, Arminas Jasikonis, Thomas Olsen and Ben Watson will all be trying to stop the riders mentioned above from making their own history and that is why the MXGP championship continues to be the highest level of motocross, anywhere around the world.
Words by Geoff Meyer
© Photo by Andy McGechan, BikesportNZ
Find BikesportNZ.com on FACEBOOK here