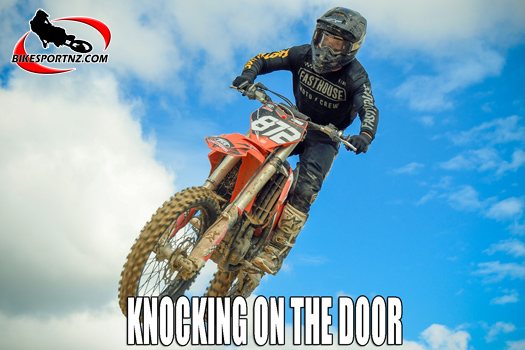 We thought we'd take this opportunity to look back at some of the non-factory riders who impressed during the just-completed 2021 New Zealand Motocross Championships.
In the MX2 (250cc) class there were plenty of stand-outs, but two young men in particular came to our attention … both of them finishing the championship inside the top 10.
Wellington's Adam Moss and Napier-based former Wairoa rider Reece Lister were perhaps not expected to be challenging the established stars of the sport, but they did just that in 2021.
And, all the while, they were battling it out among themselves too, with Moss eventually finishing the series ranked sixth overall and Lister, just one point behind him, in seventh.
The 21-year-old Moss, a builder's apprentice in Wellington, says his secret this year was "doing heaps of riding", more than he'd done in previous years (he had finished 11th overall in the MX2 class in 2020).
"I was surprised at how well I have gone this year, especially in the first race at (round one of the nationals at) Woodville, coming in sixth," said Moss. "That was the best result I've ever had."
He bettered that result in the very next race, finishing fifth, and he also finished fifth in one of the races at each of the three rounds that followed, with a couple more sixth placings thrown in for good measure during the series.
For Hawke's Bay-based cross-country racing specialist Lister, originally from Wairoa and working as a pest control officer near Napier, it was also about being consistent.
Lister's best result was a fourth in one race at round two in Rotorua and that would have shaken a few of the factory boys, although his worst result, a 15th in his second race at round two in Pukekohe (after a first-turn snarl-up left him at the back of the field), was certainly costly.
"I'm happy to get seventh and loved how exciting the racing was between myself and Mossy throughout the whole championship," said the 20-year-old Lister. "I had a bit of an 'off' day at Taupo due to an injury I suffered in the cross-country nationals, but I was happy to be able to finish all my races."
Moss eventually finished nine points behind factory rider Brodie Connolly, who had to settle for fifth, but that was after Connolly had DNFed one race due to a crash and failed to start the next, meaning the LMC Husqvarna Racing Team rider from Tauranga was only able to complete nine of the 11 MX2 races in the series this year.
By contrast, Moss and Lister scored points in every race this season.
If Connolly had done the same, it's fairly certain the gap would have been much greater than nine points, but that's perhaps what you'd expect from a seasoned factory pro like Connolly.
But that's taking nothing away from the "lesser mortals", riders who were also without massive budgets and teams of mechanics and support personnel behind them, who completed the top 12 behind Moss and Lister – Te Aroha's Luke van de Lee (runner-up to Connolly in the Under-19 stakes), Auckland's Logan Blackburn, Christchurch's Marshall Phillips (third in the Under-19 rankings), Hamilton's Nick Westgate and Tauranga's Donovan Ward – also firing on all cylinders this season.
So it will pay to watch out for these names in the years to come – and a few others too, perhaps Masterton's Sam Blundell will break into the top 10 in 2022 – because this is the future of our sport right here.
© Words and photos by Andy McGechan, BikesportNZ
Find BikesportNZ.com on FACEBOOK here