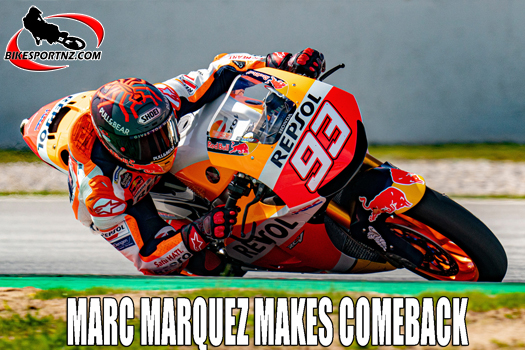 Six-time MotoGP world champion Marc Márquez put together a strong Saturday in Portimao to secure a second row start on his return from injury.
Meanwhile, his Repsol Honda Team team-mate Pol Espargaro escaped major injury from a vicious high-side as he looks to regroup ahead of race day proper (tomorrow morning NZ time).
Saturday in Portugal was run under ideal conditions, the sporadic rain showers of the previous day traded for clear blue skies. This made for a busy Free Practice 3 session as everyone attempted to improve their times for a spot in Q2.
Both Pol Espargaro and Spanish compatriot Marquez were making good progress, with Espargaro inside the top 10 and Marquez just a few tenths off as the session approached its end.
A red flag, the result of a crash for Jorge Martin, saw both Repsol Honda Team riders unable to improve their time in the restarted five-minute session and would subsequently enter Q1 later in the day.
Frenchman Fabio Quartararo (Yamaha) eventually qualified fastest, ahead of Spain's Alex Rins (Suzuki), Frenchman Johann Zarco (Ducati), Australian Jack Miller (Ducati), Italy's Franco Morbidelli (Yamaha), then Marc Marquez.
Márquez suffered a badly fractured arm in the 2020 season opener, which ruled him out for the year.
He made a welcome step back to competitive racing when he completed a day around the Circuit de Barcelona-Catalunya in the middle of March, but doctors could not give him the green light for the first two races of the 2021 season.
However, the 28-year-old has recovered enough to line up now at Portimão this weekend.
Márquez revealed on Twitter: "I'M VERY HAPPY! Yesterday I visited the doctors and they gave me the green light to return to competition. They have been 9 difficult months, with moments of uncertainties and ups and downs, and now, I will be able to enjoy my passion again! See you next week in Portimao!"
His Repsol Honda team confirmed: "In the review carried out on Marc Márquez by the Hospital Ruber Internacional medical team, four months after surgery, led by doctors Samuel Antuña and Ignacio Roger de Oña, and made up of doctors De Miguel, Ibarzabal and García Villanueva, for an infected pseudoarthrosis of the right humerus, a very satisfactory clinical condition was found, with evident progress in the bone consolidation process.
In the current situation, Márquez can return to competition, assuming the reasonable risk implicit in his sporting activity."
Márquez, who also has one 125cc world title (2010) and one Moto2 crown (2012) to his name, will now feature alongside new team-mate Pol Espargaró, who has 11 points from the opening two races.
Frenchman Johann Zarco (Ducati) leads the 2021 standings after the Qatar GP and Doha GP on 40 points, just four points ahead of compatriot Fabio Quartararo (Yamaha) and Spaniard Maverick Viñales (Yamaha).
Find BikesportNZ.com on FACEBOOK here
Points standings after two of 19 rounds:
Johann Zarco, France, Ducati, 40 points;
Fabio Quarteraro, France, Yamaha, 36;
Maverick Vinales, Spain, Yamaha, 36;
Francesco Bagnaia, Italy, Ducati, 26;
Alex Rins, Spain, Suzuki, 23;
Joan Mir, Spain, Suzuki, 22;
Jorge Martin, Spain, Ducati, 17;
Aleix Espargaro, Spain, Aprilia, 15;
Jack Miller, Australia, Ducati, 14;
Pol Espargaro, Spain, Honda, 11.