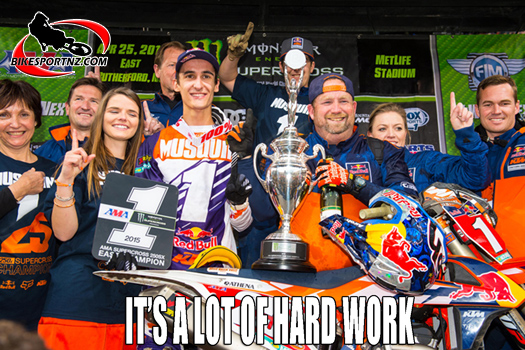 Frenchman Marvin Musquin talked earlier in the week about his life as a professional motocross and supercross racer. He gives us more insight today.

In 2004, Musquin won the European Motocross Championship in the 85cc class. He followed this by winning the 2006 125cc Junior World Championship.
He competed on a privateer Honda in the 2008 FIM MX2 world championships, finishing in 14th place.
He was then twice an MX2 world champion for KTM, in 2009 and again in 2010.
In 2015, Musquin won the East Coast Supercross 250MX class Championship. Musquin was also a member of the victorious French 2015 Motocross des Nations team that included Gautier Paulin and Romain Febvre.
He has now been part of the AMA supercross and motocross paddock for a decade.
Today we continue the conversation with the talented Frenchman …
You're 31 now. How is the physical cost of your career? We all remember the Bercy Supercross in Paris when you suffered your first knee injury …
That was at the end of 2010, going into 2011 and I was racing Bercy before starting my career in America. I ended up missing supercross. I mean those injuries like ligaments and tendons … I wish I'd broken bones. Do you know what I'm saying? But that's how my body is. Surgeons and physios have told me that I'm very flexible so I tend to injure ligaments and tendons more than anything. My last knee problem was probably the biggest and where I had the most things repaired. The other knee – that I hurt twice – is actually pretty good but this last one was big. It's a bummer. My hand also in 2015. I don't feel that they are 'massive' injuries but little ones that bother you over a long time. I'm still capable of training and racing but I do think about the effects on my body now and again and, unfortunately, that's part of racing. I know my body is not 100% 'normal'.
You're one of the most technical riders we've seen. Can that skill and feeling still get better or do you think it's an area where you peak and then look for improvements elsewhere? Can you still surprise yourself?
I have to say: 'unfortunately not'. [pause] Also it's harder on the 450 compared to the 250. It's also nice to hear what you just say. There is a part of me that always wishes to be a bit better.
We guess that's the never-ending ambition for a racer or an athlete …
Exactly.
You put a rare old photo of you battling former MXGP racer Clement Desalle on 85cc bikes on Instagram the other day. Clement, and your countryman Gautier Paulin, both retired in 2020. Does watching your peers and former team-mates like Ryan Dungey walk away make you reflect upon your own career?
For sure I still follow MXGP so I saw that Clement and Gautier had both retired. Racing in Europe is quite a bit different to what I'm doing here in America. Every single rider has a different type of career. I mean, they both already had kids and a wider family whereas I don't. Clement had been on the 450 for a very long time whereas 2021 is just my sixth. Everybody is so different. Also Dungey: another type of career. So, it is always hard to compare but it does make me think about things. When you turn 30-31 you think about the future and I always said as long as I'm having fun and good results then I'll keep going. Obviously if I cannot fight for results then there is no point. I don't want to race if it's not to my full potential.
Can you see yourself doing a 'Tony Cairoli' and making it to 35-36?
Er, no!
Lastly, you were the last guy to win the big million-dollar bonus at the Monster Energy Cup in Las Vegas [2017]. Have you blown any of the cash yet or is it sitting in the bank?
Haha! We didn't spend anything. Unfortunately, I want to say that what you see on paper is not what you actually get! The plan was to put it in the bank and watch it grow.
Photo courtesy Simon Cudby
Find BikesportNZ.com on FACEBOOK here