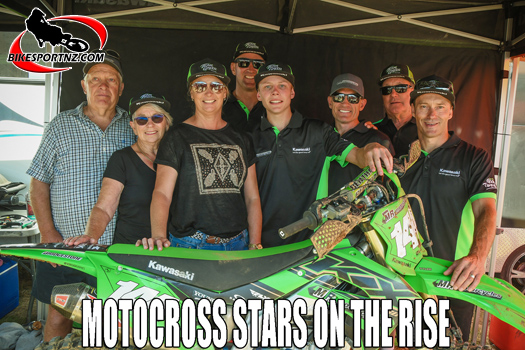 New Zealand has a few new stars rising on the horizon and perhaps the most prominent one of those is Pukekawa's Tyler Brown.
In fact, he's no longer just on the horizon – now he's up close and right in the face of his rivals.
The 15-year-old Kawasaki hero stormed to the top of the junior motocross pecking order when he won the premier 14-16 years' 250cc class at the 60th anniversary New Zealand Motocross Grand Prix at Woodville in the last weekend of January and that was surely a massive hint as to what might be coming up just a week later at the 2021 New Zealand Junior Motocross Championships in the Bay of Plenty.
Brown won three of his five races over the three days of the Farmer Autovillage and Yamaha-sponsored junior nationals at Tect Park, about halfway between Tauranga and Rotorua.
He was a solid seven points ahead of his nearest rival, Hamilton's Nick Westgate (KTM), with one race to go on Sunday afternoon, but still it came down to that final race of the weekend before he could eventually clinch it.
Brown was running third when he crashed on lap two in that final 250cc race and he was passed by another of his main title rivals, Invercargill's Jack Symon, the South Islander moving his new Kawasaki up from sixth at the start to claim the third spot.
Brown battled hard to fight back, but he actually had to dig deep just to hold on to his fourth position in that decisive race.
Out in front, Oparau's Hunter Scott (Honda) had taken the lead at the start and he wasn't letting go, fighting to hold off a stern challenge from Westgate, with Symon and Brown not too far behind them.
The race was a nail-biter, but Westgate eventually had to settle for second, Symon was third and Brown finished fourth in that final showdown, a result that confirmed Brown (pictured above with family and sponsors) as the class champion for 2021, wrapping up the title by just three points from Westgate.
"This is my first New Zealand title. I've waited a long time for this. I won Woodville last week and now this, so it just feels really good to get it done," said an ecstatic Brown, a year 11 student at Onewhero Area School.
"I felt the pressure after finishing only fourth in my first race of the weekend. So I put my head down and won the next three. Then I had an 'off' in the last race.
"A bit of nerves got to me I guess. There was a soft spot on the track that I couldn't see through my dirty goggles, I tucked the front end of the bike in and down I went.
"I definitely should win a world record trophy for picking up my bike the quickest," he laughed.
"I don't really have any words to describe how I feel right now.
"Dad helps me out a lot and I couldn't do any of this without him … or mum too. I had so much support, for which I'm grateful. A huge thanks to Kawasaki New Zealand and all my other sponsors too.
"I'm not too sure whether I can race juniors again next year. It depends on when the nationals are held. My birthday is on April 14 and April is when this event is usually held."
The COVID-19 pandemic caused last year's juniors championships to be cancelled and an earlier February date was chosen this year.
Brown comes from a family of motorcycling high-achievers, his father Craig Brown not only his mentor and mechanic at the weekend, but also a top-five finisher in his senior championship days and more recently a national champion in the veterans' grades as well. Tyler Brown's grand-father, Mike Wilkins, was a national hare-scramble (cross-country) champion in his day too.
Meanwhile, in the most senior of the 125cc categories, for riders aged 15-16 years, Tauranga's Madoc Dixon successfully defended his 2019 title.
The Yamaha ace won three of his five races over the weekend at Tect Park and was runner-up in the other two races, giving him a narrow three-point win over Hamilton's Dylan Westgate (KTM).
"I felt pretty nervous coming into it, but I've worked really hard and it paid off this weekend," said Dixon. "I knew I just had to stay consistent and I'd achieve my goal."
Other class winners at the weekend were Tauranga's Aidan Roberts (12-14 years' 125cc class, Yamaha);  Whanganui's Troy Bullock (14-16 years' 85cc/150cc class, KTM); Waitoki's Cole Davies (12-13 years' 85cc/150cc class, KTM); Taupo's Declan Connors (8-11 years' 85cc/150cc class, KTM); Tauranga's Levi Townley (8-11 years' Pro 65cc class, Yamaha); Palmerston North's Hannah Powell (12-16 years' 125cc/250cc women's class, Honda); Raetihi's Karaitiana Horne (12-16 years' 85cc/125cc women's class, Yamaha); Taupo's Mikayla Griffiths (8-11 years' 85cc/150cc women's class, Yamaha).
© Words and photos by Andy McGechan, BikesportNZ.com
Find BikesportNZ.com on FACEBOOK here