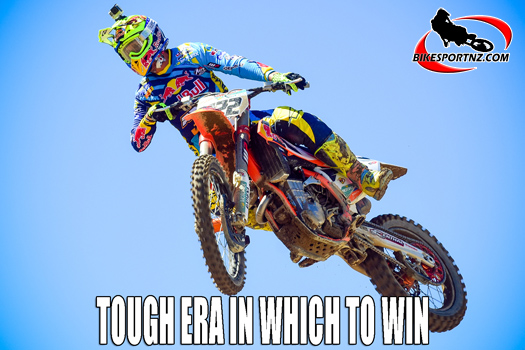 Could this be the greatest era in motocross Grand Prix history? Just look at all the champions lining up this year.

There is no doubt, with the current crop of multiple FIM Motocross World Champions in MXGP, we are without question experiencing one of the most impressive periods of Grand Prix motocross.
MXGP is stacked with world title-winners, Antonio Cairoli (pictured here) with nine, Tim Gajser and Jeffrey Herlings with four each, Jorge Prado with two, while Pauls Jonass, Romain Febvre and Jordi Tixier have one each.
Cairoli leads the pack when it comes to statistics, his nine world championships and 92 Grand Prix victories the most impressive, while Herlings with his four World titles and 90 GP wins is second, then Gajser with his four world titles and 29 Grand Prix wins sits in third place, although it would be debatable which rider is the best at the moment. HRC's Gajser is the defending champion and has won world motocross championships in 2015, 2016, 2019 and 2020.
While many may say that Herlings is the fastest man on the planet, though Gajser is without question the most successful rider of the last six years, he is stacking up the GP wins and World Championships and doing it better than anyone else at the moment.
"In 450 class, when he (Herlings) moved to MXGP, it happened that he wasn't 100% and I was, or he was 100%, and I wasn't 100% in 2017 and 2018 and he was riding amazing and feeling good. But it isn't just me and Jeffrey, we have Tony with a lot of experience, also Prado coming from MX2, was strong. Also, a lot of other guys like Febvre, Seewer, Jonass, Jasikonis, so many guys."
Grand Prix promoter Giuseppe Luongo is obviously a fellow Italian to Cairoli, but he knows just how good Herlings is, and like many, feels the Dutchman is one of the fastest riders he has ever seen. He also knows that injuries have caused the Dutchman more issues than many other riders.
"It's complicated to talk about Jeffrey," Luongo said. "Jeffrey is everything, in my opinion he is the most determined and fastest rider I have seen in the 40 years of my career, and when he goes fast nobody can stop him, maybe only Jeffrey can stop himself.
"But sometimes there is a combination of silly mistakes and bad luck because if you see in his young age, he has won 4 World Championship titles and he has lost at least another 4 due to this. I don't know if it's just bad luck, a lack of concentration or a combination of both.  I have a lot of respect for Jeffrey, for his riding and also for his behaviour and I really hope he returns as soon as possible in good health, because with his young age he still has a lot of records to break."
But Luongo has a soft spot for his fellow Italian (Cairoli), and statistics don't lie. The Italian is the best of this era, maybe not the fastest, but without question the most successful of the current crop of MXGP riders.
"You know, it's easy to talk about how great Tony is, his career and his results talk alone.  Tony is a fighter and he will never give up until the end, he is very clever on the bike, and he is without any doubt the rider with the most experience and you see race by race he compensates his age and some little injuries he has with his experience, intelligence and wisdom on the bike, it will be very interesting and it would be great for Tony if he were able to win his tenth title which will bring him to have the same number as (Belgian) Stefan Everts (but more titles in the major class).
"But, whatever he does, if he wins or not, it's out of any doubt that Tony is by far one of the greatest riders in the history of motocross and he is a great example for many kids who love our sport. It's complicated to say now if he will succeed with his ten titles or not because the battle is very tight."
So, as we enter another season in 2021, and these legends of the sport go head-to-head once again, let's not talk about who is the fastest, or who will win the championship this year, because as we have seen in the past, the fastest and most experienced have lost out to Gajser.
What we do know, is that whoever win the 2021 MXGP championship will have won it against the most stacked field in Grand Prix history.
Words courtesy Geoff Meyer
© Photo by Andy McGechan, BikesportNZ
Find BikesportNZ.com on FACEBOOK here