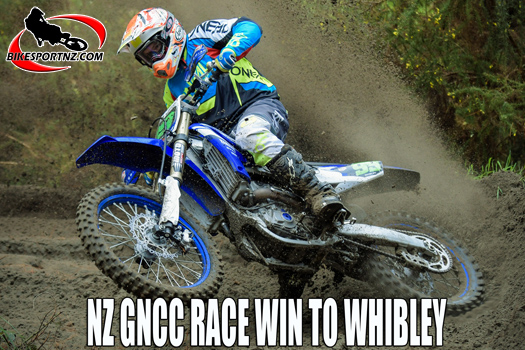 Round two of the MotoSR-sponsored Grand National Cross-country Championship (GNCC) series was held in the sandy lands of Woodhill Forest, west of Auckland, at the weekend.
Postponed from earlier in the year, this race was held in the northern end of the forest, on the southern head of the Kaipara Harbour.
The day kicked off with the junior riders blasting off into the forest under a torrential downpour. Needless to say, goggles didn't last long.
Auckland rider Ryan Hayward (KTM 150 XC-W) took the win, but another local rider, Helensville's Oscar Woolner (Yamaha YZ125) keep the pressure on and was not too far behind when the flag came out.
Rotorua's Daniel Bates (KTM 150SX) rounded out the overall junior podium.
Auckland's Matt Erasmus (Kawasaki) cleaned up the 7-11 class and Auckland's Leo Copping (KTM) dominated the 85cc class.
It was quite a contrast in conditions by the time the seniors lined up. The sun had come out and there was not a puddle in sight. It's remarkable what sand can handle.
It was Paul Whibley (Yamaha YZ450FX) who took the early lead and settled in up front. His PWR Yamaha team-mate Seth Reardon latched onto his rear wheel and never let go. A dig-dong battle would pull them clear of everyone else making it a two horse race by the second lap.
The track had a good mix of some tight trees with a few tree stumps mixed in to keep the riders on their toes (literally), and some flowing rolling coastal strip with awesome rolling hills and fun natural jumps.
At the fuel stop the two Yamaha team-mates were still locked into battle.
Reardon led the way out of the pits, but Whibley quickly put that 450cc power to good use on one of the open sections to retake the lead.
On the second to last lap, Reardon made a mistake and went down. And that was all Whibley needed to go on and secure the win.
He "put the hammer down" and opened up a minute lead, laying down the fastest lap of the race on the last lap to take the win.
The podium was rounded out with another Yamaha rider, Rotorua's Ethan Harris, who put in a stellar rider on his return from injury to claim third.
Sunday's race was organised and run by the Endless Dirtbiking crew and run in conjunction with the Motomuck 2-Man Series.
Reardon had won the GNCC series opener at Taikorea, near Palmerston North, in July, on that occasion leading Cambridge's Dylan Yearbury across the line.
Whibley, as the event organiser at Taikorea that day, opted not to race round one and this means Reardon leads the series after two rounds.
Round three of the MotoSR GNCC series will be at the popular Burt's Farm course at Matata on October 18.
© Photo by Andy McGechan, BikesportNZ
Find BikesportNZ.com on FACEBOOK here