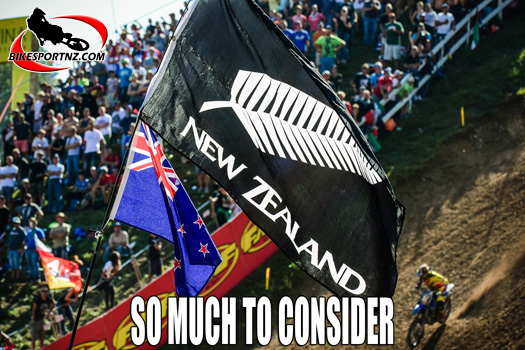 As a follow-up to our story yesterday that New Zealand would not be sending a team to this year's Motocross of Nations, let's have a look at some of the other computations around that.
At this stage the Motocross of Nations (MXoN) is still holding on to its September 26-27 date, but, with nine GPs still tentatively rescheduled to run after that traditional end-of-season date, the GP season now running as late as October and November, where does this really leave the MXoN in terms of status or importance?
Will the factory teams allow their riders to represent their respective countries in what will now be the middle of the GP season?
Any race team which has a rider close to securing a world title, or at least with a good chance of finishing among the top three, would be highly reluctant to back an MXoN bid.
The Americans have, on several occasions in the past, not needed too much of an excuse not to go to the MXoN when it's staged in faraway Europe, or perhaps they have sent only a "B" team.
Top USA motocross rider Eli Tomac refused to go when the event was to be staged in England in 2017, claiming his "season was already too long" and he was just plain tired (although apparently not too tired it seems to race the big-prizemoney, season-ending Monster Energy Cup in Las Vegas. Incidentally, he was beaten by a European rider at that event, Frenchman Marvin Musquin).
And we notice he was quick to put his hand up when it was staged in Michigan, USA, the following year (and his season was no shorter on that occasion).
We'd all like the Americans to back up their claims that they have the best racers on the planet and that their national series is the toughest on planet Earth … although the statistics don't back that up and have they not heard of the motocross world championships?
Team USA has failed to win this event for eight consecutive seasons now, so presumably they'd prefer to stay at home anyway and avoid another humbling experience.
In saying that, though, the participation of Team USA is so important for many who would say that this "Olympic Games of Motocross" is incomplete without them, but, looking at the situation in the United States right now, bike racing is the least of their concerns.
Couple that with the fact that, like the GP season, the AMA motocross nationals will now also be running much later in the year and running through that September period.
The fact that the host venue for the MXoN was only recently switched from France to England also raises concerns that perhaps the calendar is still quite fragile and who wants to commit to the high cost of overseas travel when it's not only pricey, but risky and unsettled too?
So where does that leave the MXoN in 2020? – with a massive asterisk next to the eventual results, no matter what transpires at Matterley Basin in September.
© Words and photo by Andy McGechan, BikesportNZ
Find BikesportNZ.com on FACEBOOK here