Today we're introducing a new feature for our BikesportNZ.com visitors … a special offering that we are calling THE BEST RACE EVER … where we'll ask a few of motorcycle sport's big guns just what was their most memorable race.
We're chatting here with two-time New Zealand Superbike Champion (in 2016 and 2018) and 2015 Suzuki Series F1 class winner Sloan 'Choppa' Frost, the Wellington Suzuki ace who ended up an unaccustomed seventh overall in this year's abbreviated series, cut short by two rounds (six races) because of the Coronavirus COVID-19 pandemic lock-down.
"If I had to pick the one race for me that really stands out, it would be the NZTT title race at Hampton Downs in 2015," recalls Frost.
"Jaden Hassan (Suzuki) and I were battling for the lead early in the race when he crashed right in front of me on the exit of turn four.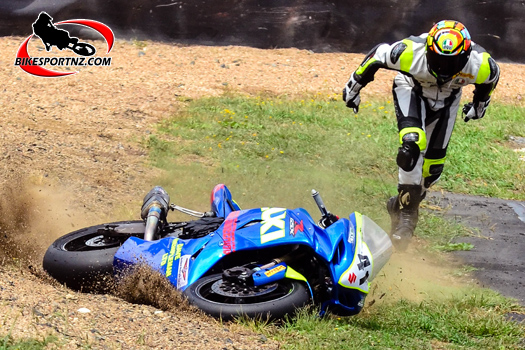 "I had nowhere to go except right over his bike. As I was jumping through the air, I was sure I was crashing, but somehow I found myself still on two wheels somewhere out on the grass.
"A quick regroup and I was back on track, albeit in last position.
"The rest of the race I rode better than I ever thought possible, making pass after pass.
"Heading into the final lap, I was fourth but the lead was in sight. I managed to pass Nick Cole (Kawasaki) for second in the final turn and came within a tenth or so of a second from passing (Australian BMW rider) Linden Magee for the lead across the line. Close but no cigar."
Although neither Frost, nor fellow Suzuki rider Hassan, could claim the TT title in 2015, the then 20-year-old Hassan did go on to win the national superbike crown that year.
Hassan, from Westmere, stormed to an impressive hat-trick of wins at Taupo's final round, adding that to the three superbike race wins he scored at the second round of the series near Timaru that January.
Runner-up to Hassan that season was 2014 superbike champion Dennis Charlett, of Christchurch, the Suzuki rider finishing a distant 42 points behind Hassan, with Frost taking the third step on the series podium – and keeping his No.3 ranking from the previous year – finishing 18 points further back, but making it a Suzuki 1-2-3 that year.
Frost rebounded to win his first national superbike championship crown the following year (2016).
© Words and photos by Andy McGechan, BikesportNZ
Find BikesportNZ.com on FACEBOOK here