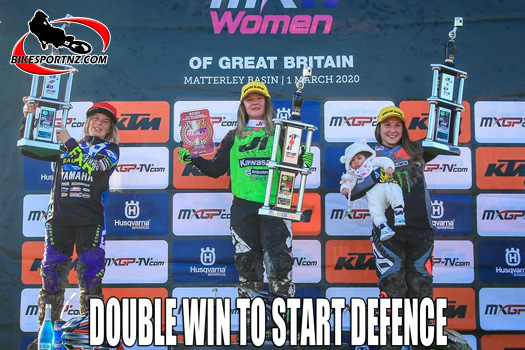 New Zealand's Courtney Duncan started her Women's Motocross World Championship title defence in emphatic style, scoring back-to-back wins at Matterley Basin, near Winchester, at the weekend.
The 24-year-old Dixon Racing Team Kawasaki rider from Otago looked strong all weekend, winning the weekend's first of two WMX races on Saturday. During the first race, Duncan took the holeshot closely followed by Dutch rider Nancy Van De Ven.
Van De Ven led the race for two laps, before crashing out, allowing Duncan to take the lead, followed by Kiara Fontanesi who made some quick moves in the first laps to move into second. Meanwhile, Dutch rider Lynn Valk moved up to third.
The top three stayed the same for the entire race, as Van De Ven tried to fight off Germany's Larisa Papenmeier. Papenmeier was able to pass the Dutch rider with two laps to go, to secure her spot in the top four of the race, with Van De Ven finishing fifth.
In race two, Duncan got off to another flyer, leading Van De Ven, Valk, Papenmeier and Belgian rider Amandine Verstappen. By lap four, Papenmeier passed Van De Ven for second securing herself the second spot on the podium, as she remained in the position for the entire race.
From then on there was not much change with the leaders, as Duncan continued to lead Papenmeier, with Van De Ven, Verstappen and Valk rounding out the top five.
Kiara Fontanesi was making her way back up the chart, following a start in the top 10 and by lap five was up in sixth after gradually passing riders each lap. Also doing the same was Mathilde Martinez who finished the race in 7th behind Fontanesi.
The top three looked like this; with Courtney Duncan securing the first overall victory of the season, followed by Larissa Papemnemier and Kiara Fontanesi.
"I'm very happy to win both races here this weekend, honestly I feel a little bit rusty, didn't feel that good on the bike but given the time we've had on the race bike and bike time in general in pre-season, I think we can move on from here happy and coming out of here with the full 50 points is important," Duncan said.
Next round of the 2020 FIM Women's Motocross World Championship is taking place in Valkenswaard during the MXGP of The Netherlands this coming weekend.
Photo courtesy MXGP
Find BikesportNZ.com on FACEBOOK here
WMX – Race 1 Top 10:
Courtney Duncan (NZL, Kawasaki), 28:54.805
Kiara Fontanesi (ITA, KTM), +0:11.560
Lynn Valk (NED, Yamaha), +0:17.018
Larissa Papenmeier (GER, Yamaha), +0:31.542
Nancy Van De Ven (NED, Yamaha), +1:20.495
Sara Andersen (DEN, KTM), +1:56.111
Jordan Jarvis (USA, Kawasaki), +2:24.773
Britt Jans-Beken (NED, KTM), +2:27.798
Line Dam (DEN, Yamaha), +2:30.366
Elisa Galvagno (ITA, Yamaha), +2:44.219
WMX – Race 2 Top 10:
Courtney Duncan (NZL, Kawasaki), 28:37.429
Larissa Papenmeier (GER, Yamaha), +0:05.505
Nancy Van De Ven (NED, Yamaha), +0:27.613
Amandine Verstappen (BEL, Kawasaki), +0:31.137
Lynn Valk (NED, Yamaha), +0:32.200
Kiara Fontanesi (ITA, KTM), +0:52.145
Mathilde Martinez (FRA, KTM), +1:36.575
Line Dam (DEN, Yamaha), +1:37.851
Anne Borchers (GER, Suzuki), +1:41.756
Tahlia Jade O'Hare (AUS, KTM), +1:42.740
WMX – Overall Classification Top 10:
Courtney Duncan (NZL, KAW), 50 points
Larissa Papenmeier (GER, YAM), 40 points
Kiara Fontanesi (ITA, KTM), 37 points
Nancy Van De Ven (NED, YAM), 36 points
Lynn Valk (NED, YAM), 36 points