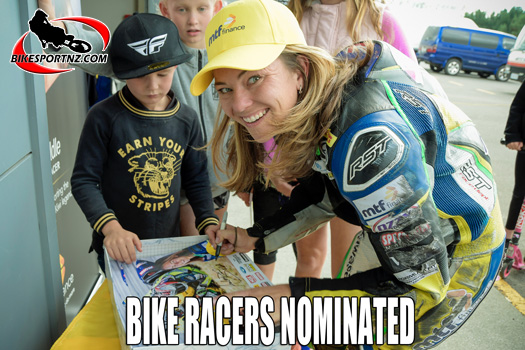 The Halberg Foundation has announced 70 nominations have been received for six categories at the 57th ISPS Handa Halberg Awards, including three from the motorcycling community.
This is New Zealand's pre-eminent event to celebrate and honour sporting achievements from 2019 and this year bike racers Courtney Duncan, Avalon Biddle (pictured right) and Hamish Macdonald are among those nominated, all three riders from the South Island.
The Awards were created by Olympic champion Sir Murray Halberg (ONZ) in 1963 to honour sporting excellence and as a major fundraiser for the Halberg Foundation – his charity which aims to enhance the lives of physically disabled young New Zealanders by enabling them to participate in sport and recreation.
Twenty-eight sporting codes are represented in the nominations, submitted by National Sporting Organisations and an independent Nominations Board, recognising achievements from 1 December 2018 to 30 November 2019.
The Buddle Findlay Coach of the Year has received 17 nominations from 13 different sports – the most of any category.
They include; Lisa Carrington's coach Gordon Walker, who has won the category for the past three years as well as Dame Valerie Adams, a triple supreme Halberg Award winner, who is nominated for the first time as coach of her sister, Para athlete Lisa Adams.
The coach nominees also include; Allan Bunting (rugby), Cory Sweeney (rugby), Dale Stevenson (athletics), Damian Wiseman (Para cycling), Eugene Bareman (mixed martial arts), Gary Hay (rowing), Gary Hollywood (swimming), Gary Stead (cricket), Michael Bland (Para cycling), Noeline Taurua (netball), Roly Crichton (Para swimming), Ross Machejefski (cycling), Shane McLeod (hockey), Simon Mayne (Para swimming) and Steve Hansen (rugby).
Nominees for the Sportswoman, Sportsman, Team and Para athlete/team categories are all eligible for the supreme Halberg Award – the country's highest accolade for sporting excellence.
The High Performance Sport New Zealand Sportswoman of the Year award will be a hotly contested category with 15 athletes put forward from nine sports.  Canoe racer Lisa Carrington will be considered for her fourth straight win after a successful 2019.
The nominations also include; Abby Erceg (football), Avalon Biddle (motorcycling), Courtney Duncan (motorcycling), Danielle McKenzie (canoe racing), Katrina Rore (netball), Kelly Brazier (rugby), Laura Langman (netball), Luuka Jones (canoe slalom), Michelle Montague (mixed martial arts), Phillis Meti (golf), Ruby Tui (rugby), Sarah Hirini (rugby), Tyla Nathan-Wong (rugby) and Zoi Sadowski-Synnott (snowboarding).
The 2018 supreme Halberg Award winner Tom Walsh has been nominated for the ISPS Handa Sportsman of the Year. The category features 12 athletes from 11 different sports including; Campbell Stewart (cycling), Israel Adesanya (mixed martial arts), Kane Williamson (cricket) Kieran Read (rugby), Lewis Clareburt (swimming), Michael Venus (tennis), Nico Porteous (freeskiing), Paul Coll (squash), Roger Tuivasa-Sheck (rugby league), Scott McLaughlin (motorsport) and Tom Sexton (cycling).
The 2018 ISPS Handa Team of the Year winner the Black Ferns Sevens, are again up for the award which features nine teams from five sports.  The Blackcaps (cricket), Kiwi Ferns (rugby league), Women's Pair – Grace Prendergast and Kerri Gowler (rowing), Lightweight Women's Double – Zoe McBride and Jackie Kiddle (rowing), Silver Ferns (netball), Women's Double – Olivia Loe and Brooke Donoghue (rowing), Women's Eight (rowing) and Women's Team Pursuit – Holly Edmondston, Bryony Botha, Kirstie James, Rushlee Buchanan and Michaela Drummond (cycling) have also been put up for the team honours.
Sophie Pascoe has been nominated for the ISPS Handa Para athlete/team of the Year – a category she has claimed six times. Pascoe is joined by Cameron Leslie who is put forward for his Para swimming and wheelchair rugby success, along with Eltje Malzbender (Para cycling), Emma Foy and Hannah van Kampen (Para cycling), Lisa Adams (Para athletics) and the Wheel Blacks (wheelchair rugby).
The developing international reputation of our stars of tomorrow is recognised in the Sky Sport Emerging Talent category, designed to assist a young athlete in their quest to reach the pinnacle in their sport, and hopefully in the future they will be candidates for the supreme Halberg Award.
Eleven nominations all from different sports have been put forward, they are; Alice Robinson (ski racing), Celyn Edwards (Para swimming), Erika Fairweather (swimming), Hamish Macdonald (motorcycling), Jessie Smith (BMX cycling), Kanah Andrews-Nahu (weightlifting), Kyle Glogoski (baseball), Laurence Pithie (cycling), Liberato Cacace (football), Marcus Armstrong (motorsport) and Seb Menzies and Blake McGlashan (yachting).
The ISPS Handa Halberg Awards judges will now review the nominations to shortlist into finalists who will be announced in January 2020.
The 57th ISPS Handa Halberg Awards ceremony will be held on Thursday, February 13, 2020, at Spark Arena in Auckland and televised free to air on Prime TV and the broadcast will include closed captioning.
Other awards presented during the ceremony include; New Zealand's Favourite Sporting Moment (public vote category), Sport New Zealand Leadership, Lifetime Achievement and inductees into the Sports Hall of Fame.
"The nominations represent a diverse range of sports, teams and athletes which reflect on another amazing year of sport.
"We look forward to honouring the achievements of our athletes on the world stage along with sharing the important work the Halberg Foundation is doing changing lives of young people in communities around New Zealand," said Shelley McMeeken, chief executive of the Halberg Foundation.
The Halberg Foundation has a team of advisers around the country who connect physically disabled young people to sport and recreation opportunities, they also deliver an inclusion training course on adapting physical activity and assist clubs, schools and organisations to provide inclusive events and programmes. The Halberg Games is a three-day national sports competition for physically disabled young people.
© Biddle photos by Andy McGechan, BikesportNZ
Duncan and Macdonald photos supplied
Find BikesportNZ.com on FACEBOOK here