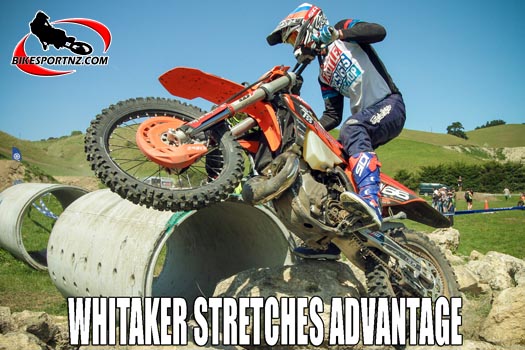 The weather heated up and so too did the competition at last weekend's racing in the New Zealand Extreme Off-Road Championships series in Hawke's Bay.
And perhaps expect it to get hotter still when the series wraps up near Christchurch in just over a week's time, on the weekend of November 15-16.
While temperatures soared into the 30s, the trio of KTM riders leading the series also turned the blow torch on one another in Hawke's Bay last weekend.
Wainuiomata's Jake Whitaker, Helensville's Tommy Buxton and New Plymouth's Tony Parker had scrapped fiercely over the front positions at rounds one and two of the series in September and were separated by just a handful of points as they arrived for battle in Hawke's Bay at the weekend, the event billed as the "Over The Top Hard Enduro", the third round of four in the Yamaha-sponsored series.
But then it was yet another KTM 300EXC rider, Napier's Mackenzie Wiig, who shot to the front of the pack as he enjoyed the home turf advantage for the weekend's two-day affair, with racing in Taradale on Saturday and Tutira on Sunday.
Wiig won Saturday's prologue event in Taradale, the course mostly man-made with tyres, rocks and steep ramps to keep riders on their toes, the local man edging out Buxton and then Whitaker for the day's honours.
However, Whitaker won the four-hour extreme enduro event at Tutira the following day, crossing the line more than 30 minutes ahead of Wiig, with Buxton finishing third, 11 minutes further back.
This was enough for Wiig to be declared overall winner for the weekend, with Whitaker second and Buxton third.
Hamilton's Greg De Lautour (KTM 300EXC) and Taranaki's Parker rounded out the top five overall for the weekend.
Whitaker continues to lead the Gold Class overall after three rounds, improving from two points to now be four ahead of Buxton, with Parker five points further back in third.
"It was a good result for me," said Whitaker on Sunday afternoon. "I moved a couple of points further away from Tommy, even though I had a tough day Saturday … I wasn't feeling well and I was low on energy. I was dosed up on Saturday night and that boosted me for Sunday.
"It was really hot, about 31 degrees (Celsius), and I became a little dehydrated after my (backpack of) drinking water ran out. I gulped down plenty at the last pit stop and that got me to the end," the 28-year-old said.
Wiig was overjoyed to be back in the winners' circle after spending most of last season sidelined with injury.
"It was definitely good to be on home turf," agreed the 22-year-old apprentice builder.
"The racing was pretty close all weekend and I felt any one of five or six riders could have won this."
Wiig did not contest the series opener and will not be racing at the final, so he has ruled himself out from taking the silverware this season, but he was pleased nonetheless to have fully recovered from the broken wrist he suffered last year.
In the Silver Class, Aucklander Mark Galbraith (Yamaha) won the weekend overall, but this was his first appearance in the series and so he does not feature among the title contenders.
Instead, it is Hastings rider Brett Gunson (the KTM rider fourth overall for the weekend in Hawke's Bay) who leads the Silver Class after three rounds, just ahead of New Plymouth duo Daniel Herbert (the KTM rider who was runner-up to Galbraith in this class at the weekend) and Mark Horwell (KTM).
Rerewhakaaitu's Zach Sefuiva (KTM) has moved up from third to first overall in the Bronze Class, thanks to his strong performances in Hawke's Bay, with Kaukapakapa's Lucia Oles (KTM) in first-equal position and Whitecliffs' rider Luke Corson (KTM) holding on to third place overall despite not contesting round one.
Just as it did for last year's inaugural extreme series, the competition will again wrap up with another double-header weekend, at the two-day Nut Buster hard enduro at Oxford, near Christchurch, on November 15-16.
Only three of the four rounds of the Yamaha NZ Extreme Off-road Championship are to be counted, with riders to discard their one worst score from the three North Island rounds.
The 2019 Yamaha NZ Extreme Off-Road Championships are supported by Mitas tyres, Macaulay Metals, Best Build Construction, Silver-bullet, Kiwi Rider magazine, Dirt Rider Downunder magazine, Moto Events NZ and NZ Car Parts (Auckland).
The 2019 NZ Extreme Off-Road Championship calendar:
Round one: September 7, Taungatara Forest, Whangamata.
Round two: September 22, Moonshine Extreme, Bulls Run Rd, Porirua.
Round three: November 2-3, Over The Top, Hawke's Bay.
Round four: November 15-16, Nut Buster, Oxford, Christchurch.
© Words and photos by Andy McGechan, BikesportNZ.com
Find BikesportNZ.com on FACEBOOK here