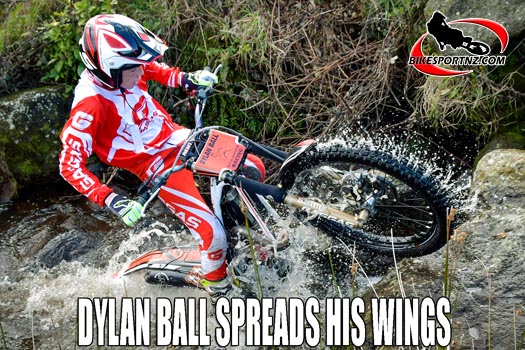 Wellington teenager Dylan Ball is fast rising up the rankings in the moto trials world and perhaps he's destined to be the next Kiwi great in this sport.
He's certainly following in the wheel-tracks of great Kiwis who have gone before him, men like New Zealand's former moto trial world champion Stefan Merriman or record eight-time former national champion Jake Whitaker.
The 14-year-old left in May to taste the 2019 world championships, in what was a two-month journey to Europe for the Moto Trials GPs, where he would ride for the BETA factory team.
"As soon as we arrived, I started to prepare and train for the 125cc world championships," said Ball.
"This class was from the age of 14 up to 21. We had weeks to train before we had to set off to Italy where the first round was being held.
"Dad and I were training with my trainer Joan Pons every day so that we could be prepared. Training was very hard as we were doing harder sections than the 125 line, and the heat posed another problem as it was 30 degrees Celsius every day.
"Italy was a tough one for me as it was the opener for the world championships. We arrived after a 12-hour drive and we were introduced to my team, Beta racing.
"So we got the bikes out and put them under the tent with my other team mates. After all that I went to go have a look at qualification, qualification was an amazing experience but it came with an immense amount of pressure," he said.
"But it was really good to mix it with the Europeans. Race day was really tough as it was a new experience riding against other really good teenagers, which I was not used to as, here in New Zealand, I ride against adults. But all of the nerves were a good motivator to push even harder for the next round in Japan.
"Japan was an amazing event. Over there Beta supplied me 125 factory which was an amazing privilege. In qualification, I did well and I got eighth out of 14, which I was proud of. Japan was a two-day event and day one was my best result. I got eighth, which was a huge improvement from Italy. There were only five points in between me and fifth place, which I was very happy about and it gave me more confidence.
"Day two I got eighth again, which I was proud of. After another two weeks of hard training it was time to go to The Netherlands. The Netherlands was a great event and probably my favourite venue. It was full of man-made sections, which I really enjoyed.
"In qualification I was eighth, which was mid-pack and that was good.
"The event was really good but the terrain was sandy which made things very slippery but yet again it was an eighth place.
"A week later we headed for Belgium. this was my last round for the season. I had watched this event before so I knew the terrain which was a bonus. Here I had my best qualification, I got second in Q1, which was a great result. The event was really good, the sections were at a high level which made the event very hard but I came through with an eighth place again which I was very proud of.
"Overall I got eighth out of 20 in the 125cc category which I am very proud of. Along with that I am the second best 14-year-old rider in the world and best 125cc rider in the Southern Hemisphere, which was a huge achievement for me.
"I couldn't have done it without my dad, he was non-stop the whole time so I would really like to thank him.
"Also another huge thanks to all my sponsors: Beta racing, Dunlop tires, Forma boots, Maxima racing oils, Kapiti beta, Forbes and Davies, Domino racing, Carbon energized and Mots racing. Also a massive thanks to my trainer Joan Pons for being a huge support with everything, couldn't have done it without him.
"I can't forget MNZ and the IXION motorcycle club for all the amazing support from here in New Zealand  In the two months that we were there, we drove 10,000 kilometres and flew 80,000 kilometres, which really drained us.
"My plans now are focusing on the New Zealand Moto Trials Championships in Hawke's Bay (on October 26-27), where I will be competing in the expert class. I will also be looking at doing some enduros and hard enduros.
"Next year's plans are for me to be doing some of the world championship again, but we will have to see if we will have the funds to do it."
© Words and photo by Andy McGechan, BikesportNZ
Find BikesportNZ.com on FACEBOOK here