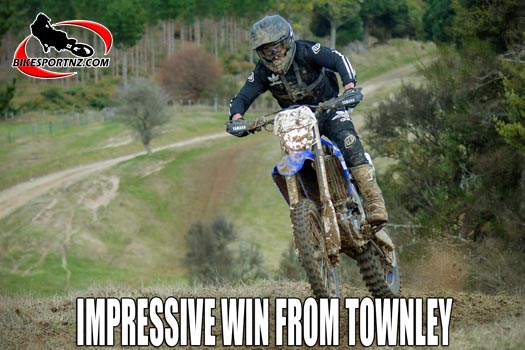 Motocross may be where Bay of Plenty's Ben Townley made his name, but he also looked quite at home on a cross-country course at the weekend.
The 2004 MX2 motocross world champion rolled up to the start line at the fourth and final round of this year's New Zealand Cross-country Championships – on farmland about halfway between Kuratau and Taumarunui, at the southern end of Lake Taupo – with a stock standard Yamaha WR450F and then proceeded to teach the cross-country boys a thing or two about racing.
It was Townley's first appearance in the series, so he had no chance of taking overall championship glory, so "just having fun on a dirt bike" was his catch-cry for the day.
The former fulltime professional motocross star took the lead from just-crowned national champion Jason Dickey (KTM 350XC-F) at the end of the first of what would eventually become an eight-lap race on Saturday and he steadily built on that to eventually win by just short of three minutes from Atiamuri's Hadleigh Knight (Yamaha YZ450F), with Whanganui's Seth Reardon (Yamaha YZ250FX) rounding out the podium and making it a Yamaha 1-2-3 result for the gruelling three-hour race.
Reardon's solid finish earned him the overall runner-up spot for the championship – and he also clinched the under-300cc class win – while Raglan's Brandon Given (Honda CRF450) finished the race eighth on Saturday to claim third outright for the championship.
"I love riding this WRF450," said Townley afterwards.
"Yamaha got it for me as an extra bike to ride and do a few different events and it's actually my favourite Yamaha. It's a brilliant bike.
"It was a tough day for me today. I'm absolutely buggered. I have not been doing nearly enough riding lately," said the 34-year-old.
"But it was a good race and me and Hadleigh (Knight) had some good, close battles at one point. I was about third at the start, but I went down soon afterwards. It was quite slippery and the crash meant I dropped a long way back.
"I went on a bit of a rampage after that to catch up and was up to second near the end of lap one.
"My main motivation today was to get third place or better to beat (friendly rival) Brad Groombridge for the series overall. He only did one round too."
Three-time former national cross-country champion Groombridge finished the 2019 championship series ranked 16th overall, despite finishing just the one race, at the series opener near Norsewood in February, but Townley achieved 13th overall for the series after his one-race appearance on Saturday.
Meanwhile, Stratford's Karl Roberts took his Yamaha YZ250F to finish an impressive 13th overall on Saturday, giving him an unbeaten string of wins in the battle-within-a-battle for veterans' (over-45 years) class honours, while Waipukurau's Stephen Sergeant (Kawasaki KX250F) finished 14th on Saturday and won the veterans' class title for riders aged 35-44.
Wairoa's Tommy Watts (Yamaha YZ125) also made his series debut on Saturday and impressed in finishing 15th overall, winning the under-200cc two-stroke class for the day.
Dunedin's Richard Mason (KTM 150XC) was 20th overall on Saturday, but that was enough for him to win the championship in the under-200cc two-stroke class.
© Words and photos by Andy McGechan, BikesportNZ.com
Find BikesportNZ.com on FACEBOOK here