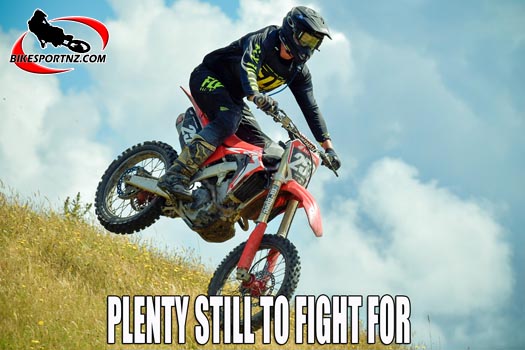 The 2019 New Zealand Cross-country Championships will wrap up near Taumarunui this coming weekend with plenty still on the line.
The senior championship has been sealed, but a thrilling winner-takes-all final showdown is in store for the juniors.
The senior title is already decided, with Raglan dirt bike ace Jason Dickey wrapping up the crown at the third round of four for the series in Marlborough last month, but the junior title is far from certain and, besides that, there's still plenty to fight for in determining the remaining podium positions.
Dickey made it three wins from three starts as he raced to victory in the South Island in April, but the fight is still on between a handful of riders to see who will else will join him on the senior podium.
Only three of the rounds are counted towards the championship, as riders discard their one worst result, so Dickey's 1-1-1 score-card in the earlier three rounds means the chase for the coveted senior title is over for 2019, but fellow Raglan rider Brandon Given, Whanganui's Seth Reardon, Glen Murray's Sam Brown, Eketahuna's Charlie Richardson and Pukekawa's Jim Orton are all in the hunt to claim the runner-up spot this Saturday afternoon.
Taupo's Nathan Tesselaar and Rotorua's Ethan Harris might also be podium contenders this weekend.
Meanwhile, in the junior ranks, it is still wide open, with Raglan's Coby Rooks (main photo, above) and Eltham's defending national junior champion Adam Loveridge close to one another at the top, separated by just five points.
in addition, Taupo's Wil Yeoman is just nine points behind Loveridge, while Morrinsville's Liam Calley and Te Awamutu's Ryan White should also fancy their chances of finishing on the junior podium.
These under-17 age riders will have their 90-minute race first on Saturday, with the three-hour senior race to follow immediately afterwards.
"The racing in the juniors has been particularly close, with the leading riders never far apart. The final round will be very exciting," said Motorcycling New Zealand cross country commissioner Chris Smyth.
"It's going to be a little different this weekend, with native bush a feature of the course. It should still be reasonably open, but perhaps speeds could be down a little and certainly a different racing experience for some."
The venue for Saturday's racing is Moerangi Station, about 7 kilometres west of the junction for State Highways 41 and 32, near Kuratau.
The series is supported by The Dirt Guide, Oakley goggles, Bel Ray oils and Michelin tyres.
© Words and photos by Andy McGechan, BikesportNZ
Find BikesportNZ.com on FACEBOOK here