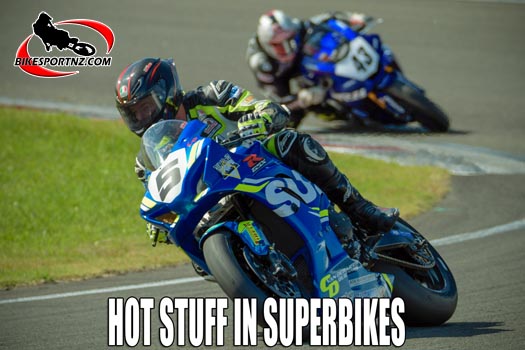 Taupo superbike hero Scott Moir is feeling the heat, so it's just as well that he's a cool customer under fire.
Moir (pictured here) had led the 2019 New Zealand Superbike Championships after three of five rounds of the series, but he came under a withering attack from Glen Eden's Daniel Mettam at round four in Feilding last weekend and he's now five points down from the top spot.
Mettam scored a hat-trick of wins at Feilding's Circuit Chris Amon, Manfeild, last weekend and took over the lead in the premier superbikes class.
He'll be hoping those five points are enough to stave off his challengers at the fifth and final round at Taupo's Bruce McLaren Motorsport Park this weekend and that's far from certain, with 75 points still on offer in the remaining races and a further one point available for the fastest qualifier.
Mettam has momentum on his side, but Moir has home track knowledge to give him an edge, while any number of others in the class might also fancy their chances of taking the crown on Sunday.
"I usually go pretty well at Taupo, so I just have to see if I can get the job done there," said a philosophical Moir.
"I know it won't be easy and, at 250kmph on a 1000cc superbike, things can happen pretty quickly.
"It's the closest I've ever been to winning the national superbike title, so I'm really determined to do it this weekend, especially in front of friends and family," said the 34-year-old.
Whatever transpires at Taupo on Saturday and Sunday, the eventual 2019 champion will know he's had a fight on his hands and the glory will be all the sweeter for it.
Meanwhile, in the Supersport 600 class, Manukau's Toby Summers has his work cut out to make up for the points he haemorrhaged at Manfeild last weekend.
He crashed out of two of the three races at Manfeild and his nearest rival, Rangiora's Avalon Biddle, took advantage, winning the event with a 1-1-2 score-card over the two days and compiling a solid 29-point buffer over Summers.
History could be made on Sunday too – If Biddle goes on to win the Supersport 600 title, she will be the first female to do so.
It will be historic too if Christchurch's Dennis Charlett (assisted by swinger Will Clim) continues on to wrap up the sidecars title.
In a long and fruitful career, the 50-year-old father-of-two and grandfather-of-six has won national motorcycling titles in all but two categories and a sidecars title win will be another important box ticked.
Other class leaders after round four of the series are Palmerston North's Jacob Stroud (Supersport 300 class); Papamoa's Leon Jacobs (250 Production class); Jacob Stroud (Superlites); Whangamata's Ben Rosendaal (650 Pro Twins, provisional); Australia's Yanni Shaw (125 GP) and Hamilton's Jesse Stroud (GIXXER Cup).
© Words and photos by Andy McGechan, BikesportNZ
Find BikesportNZ.com on FACEBOOK here