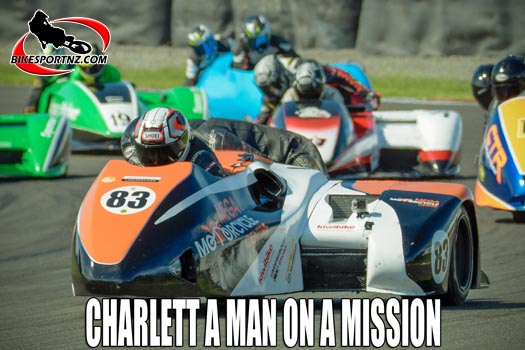 Canterbury's Dennis Charlett is a man on a mission again this season and he has arrived this weekend at Taupo's Bruce McLaren Motorsport Park in pretty sharp form.
It will be an historic moment if the Christchurch motorcycle hero (assisted by his swinger, fellow Christchurch man Will Climo) continues on to wrap up the sidecars title this season.
In a long and fruitful career, the 50-year-old father-of-two and grandfather-of-six has won national motorcycling titles in all but two categories and, if he can achieve it this weekend, a sidecars title win will be another glorious box ticked.
At the start of this weekend's fifth and final round of the 2019 New Zealand Superbike Championships, Charlett and Climo lead the chase for the sidecars title by 12 points from Taupo duo Andy Scrivener and Tina McKeown, with defending national sidecars champion Pete 'The Pirate' Goodwin and swinger Louise Blythe, in third position overall, the Aucklanders just nine points further back.
That lead can evaporate quite quickly, with 75 points still available during racing today and tomorrow, plus the additional point to be earned by the fastest qualifier.
But that won't shake a determined Charlett, who explains that this is just the first of two seasons he's given himself to clinch the sidecars crown and, besides, the position he finds himself in now is a surprise to himself as much as anyone.
"I've won every class in New Zealand, except for sidecars and superlites. Sidecars was never something I ever thought I'd have a go at, but I'm lucky I've got the opportunity to ride this one and I've got it for two years, so this is my first year on it and we're leading the points at the moment.
"It's pretty hard work. We will just go out there and do the best we can.
"It's been an amazing experience. Pretty incredible that Will (Climo) was keen to get on board with a rider who had no experience on sidecars. For a solo racer, who has always raced on a solo bike, to get on a sidecar and totally rely on somebody else to get me around the track, is amazing. We both have to do our job perfectly for this to work.
"The swingers do most of the work really. All I have to do is point it in the right direction and twist the throttle as hard as I can. It is unfair to just call them passengers. I have so much respect now for sidecar swingers," said Charlett.
"Will has been amazing because he's had experience and been able to help me go fast. He's driving it from the back really.
"We've managed to top it over at Timaru in about October last year, but I've learned a lot since then. I always like to push it hard and I was riding beyond my capabilities at that time.
He said his plan this year was to treat it like a learning experience and "just follow all the other guys around", but it's turned out even better than he had hoped.
If Charlett and Climo don't end up winning the title this year, at least they know they'll be contenders next season.
"It takes a bit of getting used to a sidecar. They're a lot wider than a bike … obviously. Totally different techniques are required, but I've learned it quite quickly. It has rekindled my enthusiasm in the sport.
"The other sidecars riders have been great too and encouraged me a lot.
"With the superlites class, I'm racing a 1982 Yamaha RZ350. We've made out own crankshafts, made our own barrels and made our own exhaust pipes. To have a two-stroke win the class that's dominated by four-strokes would be great, but I'm doing it the hard way."
Charlett is currently running third in the superlites class, with just three more races to go.
He trails Palmerston North-based former Waikato rider Jacob Stroud – the son of nine-time national superbike champion Andrew Stroud – and Christchurch's Chris Huddlestone.
"Jacob is riding really well. It's kind of strange to be racing against the son of one of my former rivals. Jacob used to be like my kids, running around the pits annoying everybody. From knowing him at that age to now be racing against him is certainly interesting.
"We've had a couple of bike failures, but, once again, I'll just have to see what I can do to get on top," he smiled. "And there's always next year anyway."
© Words and photos by Andy McGechan, BikesportNZ.com
Find BikesportNZ.com on FACEBOOK here