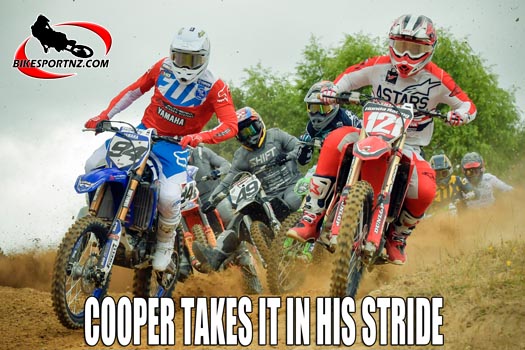 Bay of Plenty's Cody Cooper has been in some tough battles in the past, and won most of them, and so he is taking his latest skirmish in his stride.
The 35-year-old six-time former national MX1 motocross champion snatched the points lead at the opening round of four in the New Zealand Motocross Championships near New Plymouth a fortnight ago, but he knew that his main rival, Australian visitor Kirk Gibbs, would come back hard at him at round two near Rotorua on Sunday.
And that's exactly what happened.
Cooper (Alpinestars Motul Honda CRF450) had started the day at Rotorua three points ahead of Goal Coast rider Gibbs, but, when the dust cleared on Sunday afternoon, the Aussie invader had drawn level with him.
Cooper registered a 2-1-2 score-card in the three MX1 races on Sunday, while Gibbs (Altherm JCR Yamaha YZ450F) posted 1-2-1 results.
These two riders are dominating the series, sharing first and second-place finishes between them in every race thus far – with Hamilton's Kayne Lamont (Altherm JCR Yamaha YZ450F) finishing third each time – and Cooper remains upbeat as he heads now to round three of the series near Pukekohe this coming Sunday to continue the stoush.
"The start gate bounced up on me in race one and hit the front wheel. That ruined by start," Cooper explained. "The second race was good … I got the holeshot and managed to stay out of trouble and got the win.
"I go well at Pukekohe, so I'm looking forward to racing there. I like the Taupo track too. The championship is still there to be won. I'm lucky I finished where I did today," he said.
Meanwhile, an Australian first-time visitor to New Zealand, Sydney-based Kyle Webster, tasted immediate success at Rotorua, even though he had never even seen the track prior to the weekend.
Webster passed defending New Zealand MX2 (250cc) champion Hamish Harwood (CML Makita KTM250F) to take the lead near the end of the day's first MX2 race and he held on to launch his Honda CRF250 past the chequered flag in first place, the perfect way to celebrate his Kiwi debut.
Webster then backed that up with a pair of third placings and this was good enough for him to end the day overall runner-up, behind fellow Australian Wilson Todd (LMC Husqvarna 250F).
Webster will race at round three of the series near Pukekohe this coming Sunday, but that will complete his Kiwi adventure because he has no plans to race at the final round.
The purpose of Webster's brief New Zealand tour is to use the racing as part of his build-up to the Australian nationals, set to kick off at Appin, in New South Wales, on March 17.
After racing at Pukekohe on Sunday, the New Zealand Motocross Championships will wrap up with round four in Taupo on March 10.
Leading standings after round two:
MX1 class: 1= Kirk Gibbs (Australia) and Cody Cooper (Mt Maunganui), both with 141 points; 3. Kayne Lamont (Hamilton) 120; 4. Brad Groombridge (Taupo) 98; 5. Cohen Chase (Taupo) 96.
MX2 class: 1. Hamish Harwood (Royal Heights) 131 points; 2. Wilson Todd (Australia) 128; 3. Maximus Purvis (Mangakino) 116; 4. Brad Groombridge (Taupo) 97; 6. Morgan Fogarty (Australia) 90.
125cc class: 1. Hamish Harwood (Royal Heights) 150 points; 2. Ben Broad (Ngatea) 122; 3. Joshua Bourke Palmer (Rotorua) 109; 4. Tommy Watts (Wairoa) 105; 5. Clayton Roeske (Nelson) 87.
Under-19: 1. Maximus Purvis (Mangakino) 144 points; 2. Morgan Fogarty (Australia) 136; 3. Reef Wheki (Hamilton) 107.
© Words and photo by Andy McGechan, BikesportNZ
Find BikesportNZ.com on FACEBOOK here
Check back here on www.BikesportNZ.com during this week as we bring you more words and pictures from the weekend.