FOCUS ON HERLINGS, JONASS & DUNCAN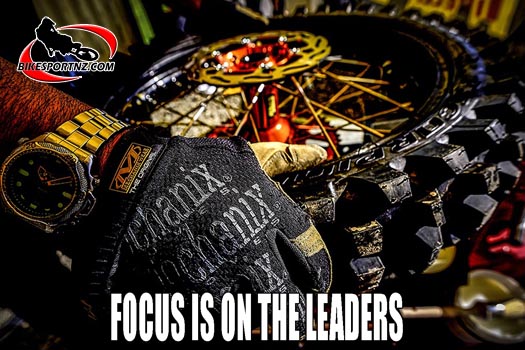 MXGP begins the second half of the 2018 FIM Motocross World Championship season this weekend in Italy and all eyes will be focussed on the fortunes of championship leaders Jeffery Herlings, Pauls Jonass and Kiwi rider Courtney Duncan.
Dutch rider Herlings suffered a fractured collar bone in a practice crash this week and he's out of this weekend's grand prix. Questions may be raised about his ability to keep main rival and team-mate Antonio Cairoli at bay as the rest of the season develops and he recovers and attempts to salvage his title hopes.
For the second time this year MXGP races in the home country of the defending champion, Red Bull KTM Factory Racing's Cairoli, with the MXGP of Lombardia set to take place at the Ottobiano circuit, just outside of the city of Milan. The 11th round of 20 this season comes just days after the last racing weekend in France.
The Ottobiano circuit was first used as a MXGP stop last year where the racing was epic with thousands of fans watching the top riders battle each other, the gruelling heat, and the technical track. All the same elements are expected this weekend with the addition of an epic battle for title.
Joining the MXGP and MX2 classes this weekend will be the FIM Women's Motocross Championship – including Kiwi heroine and series leader Courtney Duncan – for its fourth round and FIM Europe's EMX250 class for the seventh stop on their calendar.
The top women of motocross were last seen racing at the Tuetschenthal circuit alongside the MXGP of Germany, where the points leader, Altherm JCR Yamaha rider Duncan, dominated the field.
This weekend we can expect close racing with the defending champion and home fan favourite, Yamaha's Kiara Fontanesi, on a track she trains often on, although Duncan has been in outstanding form this season and will be hard to beat.
In the EMX250 class, the level of competition remains intense with many potential winners and Honda's Mathys Boisrame as the new points leader. Watch out also for Kiwi hot-shot Dylan Walsh, currently fifth in the standings.
Herlings continues to top the MXGP points standings and has grown his lead over the past several races. The sand of Ottobiano is the speciality of Herlings but unfortunately his injured shoulder won't allow him to participate.
Meanwhile, Cairoli always steps his game up in front of the home fans, making this weekend an especially interesting one to watch. Cairoli took the overall win there in 2017.
Kawasaki's Clement Desalle had a bit of an up and down weekend just days ago in France. Belgian rider Desalle had the speed in race one to finish second but then only managed a sixth in race two which left him just off of the podium. Still holding third in the points, Desalle will be looking to improve on his seventh overall from last year.
Fighting not only for the spot as top Frenchman but also for fourth in the championship is Yamaha's Romain Febvre and Husqvarna's Gautier Paulin. Febvre has a 27-point lead on Paulin and the pair battled last weekend in front of their home crowd. Last year Febvre was fourth at Ottobiano while Paulin took sixth.
Honda's Tim Gajser reached the podium last weekend in France and is getting faster week by week. Gajser result from 2017 was 10th overall but in all fairness it was among his first races after returning from injury.
Also to watch out for this weekend is Yamaha's Jeremy Seewer, Husqvarna's Max Anstie and Kawasaki's Alessandro Lupino. Seewer won the MX2 class here last year, Anstie was third in MXGP, and Lupino has been riding strong lately plus it is a home GP for him.
MX2 CLASS
In the MX2 championship, KTM's Jorge Prado comes off a successful weekend in France where he cut into the points lead of his team-mate Pauls Jonass and became the winningest rider in Spanish history. Prado however struggled in the heat here last year and didn't finish while Jonass took 2nd overall behind Jeremy Seewer.
Jumping into the championship fight of the KTM team-mate are Husqvarna's Thomas Kjer Olsen and his American team-mate Thomas Covington, who both reached the podium last weekend. Olsen has been the more consistent rider this year but Covington was on the podium here last year.
Yamaha's Ben Watson has made more passes throughout the season then most due to poor starts. Watson's speed is clearly there as he routinely has come from near last to finish inside the top five. With a pair of good starts Watson is clear threat to the podium this weekend.
Jago Geerts has been finding his form recently and was 4th overall in France after an impressive 5-2 finish. Geerts raced here in 2017 but in the EMX250 class where he took 12th.
Honda's Calvin Vlaanderen will also be interesting to keep an eye on this weekend. The South African is fifth in the MX2 championship standings and has reached the podium two of the past three races.
Also looking to impress this weekend on home soil is Yamaha's Michele Cervellin. The young Italian recently made the switch to the Yamaha and the new bike appears to suite him well with his strong performance in France.
MXGP Championship Top Ten:
1. Jeffrey Herlings (NED, KTM), 486 points; 2. Antonio Cairoli (ITA, KTM), 424 p.; 3. Clement Desalle (BEL, KAW), 351 p.; 4. Romain Febvre (FRA, YAM), 323 p.; 5. Gautier Paulin (FRA, HUS), 296 p.; 6. Tim Gajser (SLO, HON), 295 p.; 7. Glenn Coldenhoff (NED, KTM), 267 p.; 8. Jeremy Seewer (SUI, YAM), 226 p.; 9. Jeremy Van Horebeek (BEL, YAM), 219 p.; 10. Maximilian Nagl (GER, TM), 177 p.
MX2 Championship Top Ten:
1. Pauls Jonass (LAT, KTM), 434 points; 2. Jorge Prado (ESP, KTM), 418 p.; 3. Thomas Kjer Olsen (DEN, HUS), 328 p.; 4. Ben Watson (GBR, YAM), 305 p.; 5. Calvin Vlaanderen (RSA, HON), 259 p.; 6. Jago Geerts (BEL, YAM), 217 p.; 7. Jed Beaton (AUS, KAW), 216 p.; 8. Thomas Covington (USA, HUS), 211 p.; 9. Henry Jacobi (GER, HUS), 187 p.; 10. Michele Cervellin (ITA, YAM), 187 p.
WMX Championship Top Ten:
1. Courtney Duncan (NZL, YAM), 140 points; 2. Larissa Papenmeier (GER, SUZ), 125 p.; 3. Kiara Fontanesi (ITA, YAM), 118 p.; 4. Nancy Van De Ven (NED, YAM), 118 p.; 5. Stephanie Laier (GER, KTM), 88 p.; 6. Natalie Kane (IRL, HON), 81 p.; 7. Amandine Verstappen (BEL, KTM), 78 p.; 8. Anne Borchers (GER, SUZ), 69 p.; 9. Sara Andersen (DEN, KTM), 66 p.; 10. Shana van der Vlist (NED, KTM), 62 p.
© Photo by Ray Archer
Find BikesportNZ.com on FACEBOOK here