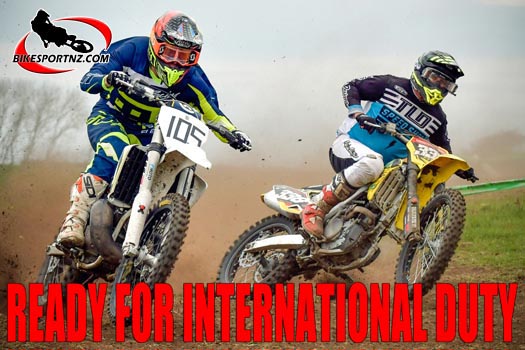 It was more than just a training exercise, but the pace of former national motocross champion Hayden Smith at the weekend's New Zealand Miniature TT Championships showed he certainly was ready for his upcoming World Junior Motocross Championships bid in Australia.
Although only his "first serious outing" on the new Husqvarna TC250 two-stroke bike, the 17-year-old Smith was simply untouchable at the annual TT dirt bike event near Taupiri.
The West Auckland rider, originally from Taihape, won all five MX2 (250cc) class races at the two-day event, on farmland east of Huntly, one of the very few riders to dominate their class so emphatically.
He took the MX2 crown by a solid 19 points from defending MX2 TT champion Brad Groombridge (Suzuki RM-Z250), of Taupo. Third overall was Auckland's Blake Gillard (KTM 250 SX).
Crossing over from the KTM brand to Husqvarna was seamless for Smith, with the bikes very similar in many ways, and so there were no real adjustments for him to make and his build-up for the big international event at Horsham, in Australia, on August 26 will continue uninterrupted.
Smith is one of just four riders who have been selected to officially represent New Zealand at the FIM Junior Motocross World Championships – the others are Oparau's James Scott (KTM), Wairoa's Tommy Watts (Husqvarna) and Tauranga's Brody Connolly (KTM).
Smith will "double class" in the New Zealand Senior Motocross Championships next season, racing for Husqvarna in both the 125cc and MX2 classes.
Also in commanding form at the TT nationals at the weekend was Te Awamutu's Rachael Archer, a year 12 pupil at St Peters' School in Cambridge.
The 16-year-old took her Husqvarna FC250 to win four of her five races in the women's grade and she was runner-up in the other race, giving her the title by a healthy 15 points over Tauranga's Shelby Catley (Honda CRF250).
Other class winners at the weekend were Taupo's Cohen Chase (MX1 class); Oropi's Ben Townley (senior 125 class); Hamilton's Reef Wheki (Junior 12-16 years 125cc and 14-16 years 250cc class); Oparau's Hunter Scott (Junior 13-16 years 85cc class); Cambridge's Jared Hannon (Junior 8-12 years 85cc class); New Plymouth's David Furze (Enduro class); Taupo's Jake Tomblin (Classic bikes class); Cambridge's Damien King (Veterans 35-44 years class); New Plymouth's Mitch Rowe (Veterans over-45 years class); Stratford's Scott Keegan (ATV premier grade); Patea's Tyler Campbell (ATV 450cc production grade); Stratford's Nicola Reid (ATV Veterans, over-40 years, grade).
Smith is supported by LMC Husqvarna, JT Racing, Pirelli, FMF, Scott, Airoh helmets, Gorilla Blasting, Acerbis, Pro Taper, Husqvarna  Power Parts, Motorex, CFX seats and DB Graphics.
© Words and photo by Andy McGechan, www.BikesportNZ.com
Find BikesportNZ.com on FACEBOOK here