MOTOFEST WORTH ANOTHER LOOK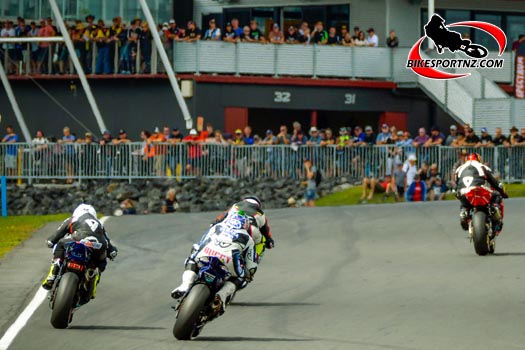 We know you'll enjoy this extended highlights package from Hampton Downs in March, that weekend's inaugural MotoFest event doubling as the third round of four of the 2018 New Zealand Superbike Championships.
The two-day festival of motorcycling promised a huge variety of high-octane excitement and that's exactly what it provided for the bumper crowd of bike fans who rolled through the gates of the popular North Waikato motorsports venue.
The jam-packed programme of activities featured on-track and off-track action that was spellbinding and New Zealand Superbike Championships racing was an integral part of that, with three races run for each of the nine championship classes, the national title hunters sharing the race track also with classic motorcycle racing and the Carl Cox Motorsport Hyosung Cup races. Also squeezed into the programme were several Pirelli Track Sessions, for amateur riders, and the Kawasaki Public Trail Ride.
Coupled with trade displays, the 2018 MotoFest offered massive entertainment options from early morning until late afternoon on both days, with the Star Insurance Bike Show, then the Alpinestars Legends Dinner on Saturday night and a Topbus double-decker party bus ride around the circuit for some lucky fans on Sunday afternoon the icing on the cake.
The action at Hampton Downs was edge-of-the-seat stuff, an enthralling Motul Stadium Trials Challenge one of those extra events to feature at MotoFest over the busy weekend, along with freestyle motocross performances by Kiwi internationals Levi Sherwood, Caleb Delacey and Nick Franklin.
Meet-and-greet and autograph sessions were also offered, with international motorcycling legends such as American MotoGP star Randy Mamola, sports commentator and former British champion Steve Parrish, Australian heroes Kevin Magee and Robbie Phillis rubbing shoulders with Kiwi icons Andrew Stroud (in action at the weekend on the world-famous, Kiwi-built Britten motorcycle), Hugh Anderson, Stu Avant, Gary Goodfellow, Aaron Slight and New Plymouth's former motocross world champion Shayne King, to name just a few.
Hampton Downs was certainly the place to be at the weekend, a "Mecca of motorcycling" with something for everyone, and Hampton Downs Motorsport Park commercial manager Mike Marsden said planning was already underway, "possibly with a few tweaks", to do it all over again next year too.
© Words and photo by Andy McGechan, www.BikesportNZ.com
Find BikesportNZ.com on FACEBOOK here