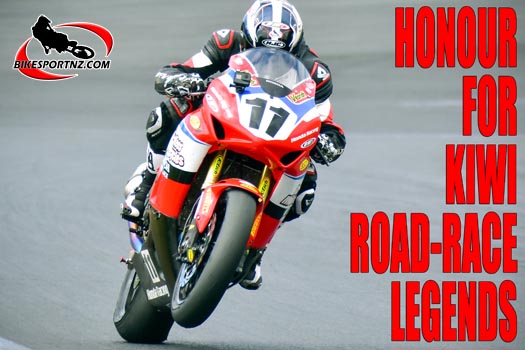 Two legends of Kiwi motorcycling are to be inducted into the Motorcycling New Zealand Hall of Fame at this year's New Zealand Motorcycle Awards Dinner later this month.
Veteran road racer Tony Rees, a multi-time production and formula one superbike champion, 10 times winner of Paeroa's Battle of the Streets and seven times winner of the Cemetery Circuit feature race, will join the best and fastest of New Zealand's cadre of road racing champions in the Hall of Fame.
The Whakatane man has been racing since 1981, and has passed on his love for speed to his two sons, Mitchell and Damon. The trio are team-mates in the Honda Rider Insurance Team Rees Racing team.
"To ride in a race with my sons is just a pretty amazing feeling actually. And my wife, she's always right there making it happen as well, so it is a real family affair."
The second 2018 inductee to the Hall of Fame is a posthumous recognition of the achievements of cross-code motorsport hero Rodger Freeth.
Freeth made his name racing McIntosh Suzukis at Bathurst in the 1980s. With 13 New Zealand titles to his name, Freeth's motorcycle racing career came to an end after damaging ligaments in his hand in 1986.
He had been co-driving rally cars since 1979, navigating for a raft of Kiwi and international drivers over a period of 14 years. In 1988 he moved into the driver's seat as a circuit racer, winning the NZ Sports Sedan Championship, also setting NZ land speed record in 1993 in a Lola Indycar at 315km/h.
Freeth passed away on September 18, 1993, following a crash in Rally Australia while co-driving for long-time rally partner 'Possum' Bourne.
The induction ceremony for Rees and Freeth will take place at the 2018 NZ Motorcycle Awards on May 19.
Words courtesy MNZ
© Photos by Andy McGechan, www.BikesportNZ.com
Find BikesportNZ.com on FACEBOOK here