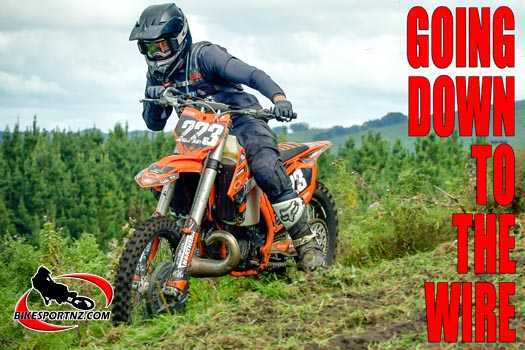 He may be second in the championship standings, but Taupo's Brad Groombridge is still the favourite to win the cross-country nationals this season.
The 2018 New Zealand Cross-country Championships will go down to the wire near Mosgiel this weekend, Saturday's fourth and final round of the series a likely showdown between two equally-talented men from the Bay of Plenty, with many other fabulously-skilled riders from all around the country also expected to have a say in the final outcome.
Groombridge (Suzuki) had led the championship chase heading into round three near Taupo last month, but he ran out of fuel while leading the three-hour senior race, dropping him back to be credited only with ninth overall that day, and this gave the series a massive shake-up.
Taupo's Nathan Tesselaar (KTM) celebrated his first national cross-country championship race win that day, the 25-year-old electrician leading Coatesville's Sam Greenslade (KTM) and Raglan's Jason Dickey (KTM) to the podium.
This result boosted Tesselaar to the top of the standings, his 4-3-1 score-card for the series thus far giving him a serious chance of winning the title overall, although everything now depends on what happens this weekend.
However, with only three of four rounds to be counted – riders to discard their one worst result – it means defending national champion Groombridge, with his 1-1-9 score-card, is still the favourite to take the crown.
But it means the series will end with a cliff-hanger at Mosgiel on Saturday, with Tesselaar, Groombridge, Dickey (0-2-3) and also perhaps Hamilton's Phil Goodwright (Husqvarna, 2-5-7) in title contention.
Wairoa's Reece Lister (KTM, pictured above) will be another rider worth looking out for this weekend.
Lister held the lead as the field came back into view at the end of the opening lap at Taupo, until disaster struck just a few hundred metres from the timing zone, the young man losing control of his bike and hurtling into a farm fence.
It took him ages to extricate his bike from the fence batons and wire and he was almost last when he eventually rejoined the race.
In an inspired ride, Lister powered through almost the entire field, claiming sixth overall at the finish and giving him the over-200cc two-stroke class win. He is now second in the series standings for this class, just three points behind Napier's Mackenzie Wiig (KTM).
Meanwhile, Napier's Bryn Codd is the new points leader in the junior grade after their 90-minute race at Taupo.
However, with the discard rule, Eltham's Adam Loveridge is mathematically still the favourite to win the title, while Raglan's Coby Rooks, Hamilton's Caleb Richardson and Cambridge's Michael Henry will also fancy their chances of winning the crown on Saturday.
There is virtually nothing to separate Codd (Yamaha, 3-3-2) from Loveridge (2-1-7), Rooks (Honda, 4-2-6), Richardson (KTM, 10-4-1), Henry (KTM, 7-5-3) or even Cambridge's Callum Patterson (Yamaha, 1-20-4) once "discarded" results are taken into account.
© Words and photos by Andy McGechan, www.BikesportNZ.com
Find BikesportNZ.com on FACEBOOK here