WHIBLEY TEACHES BY EXAMPLE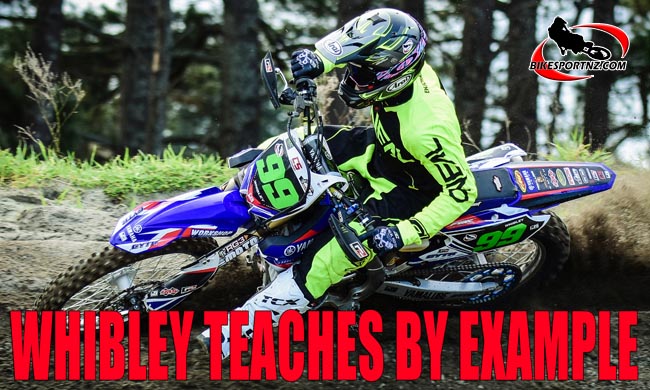 It was two missions in one that former Kiwi international Paul Whibley managed to complete near Raglan at the weekend.
The 39-year-old took his Yamaha YZ450FX to win the popular annual Raglan Rocx four-hour cross-country race on Saturday, riding it solo but crossing the finish line nearly 14 minutes ahead of several two-rider teams, and he also celebrated seeing his young protégé from the United States, Illinois rider Cody Barnes, enjoying success in his first major Kiwi race.
Barnes (Yamaha YZ125) also raced the event solo, finishing sixth overall, just one place behind the ironman class runner-up, Stratford's Karl Roberts (Yamaha YZ450F).
Raglan pair Jason Dickey and Brandon Given teamed up to finish overall runners-up, with the Andrew Charleston/Phillip Goodright pair, from Hamilton, and the Cambridge duo of Beau Taylor and Mackenzie Wiig crowding the top four positions.
A shotgun blast signalled the start to the dirt bike marathon and Taikorea's Whibley was quickest to react to the Le Mans, run-to-the-bike format, immediately taking the lead.
Straight away he had Kiwi rising star Liam Draper (Husqvarna FC250) on his tail, the 21-year-old from Howick keen to taste another win before he shortly heads to the United States to race in the Grand National Cross-country Series (GNCC) there.
The battle for the lead between these two men was fierce.
"The lead was swapped a few times as we continued the cat and mouse game to see who would crack first," said Whibley.
"Unfortunately for me, I was the first to run into trouble. While leading at about the two-hour mark, I had some fencing wire wrap around my rear brake, foot peg and boot and it dragged my foot into the back wheel.
"The wire tightened and locked my boot to the foot peg and wound its way around the wheel and locked up the rear end.
"Luckily I stopped and didn't tip over. Liam (Draper) rode past and off into the distance. I managed to inch the bike back and get enough slack to get my boot free, then I was able to unwind the wire from the wheel. After getting back into the race I was a long way behind. Liam was out of sight.
"I pushed hard though and slowly I began to reel him in. Then I caught a glimpse of him and the adrenaline kicked in.
"I pushed pretty hard and closed in, then quickly made a pass. I kept my pace going and soon had opened a gap. I had enough of a lead going into the last lap that I couldn't see Liam. I rode the (tenth and) final lap at a safe pace, taking the win."
Unfortunately for Draper, he had suffered a flat tyre and eventually dropped back to finish 13th overall, fifth in the ironman class.
Whibley was a two-time outright winner of the GNCC series in the United States (in 2009 and 2012) and a record six-time winner of the parallel Off-Road Motorcycle and ATV (OMA) series as well, before returning home to New Zealand at the end of his 2014 season in the US to immediately win the New Zealand cross-country champion in 2015.
It is the skills Whibley honed over the years to achieve those successes that have brought Barnes halfway around the world in a bid to enhance his chances of winning a GNCC title later this year.
Whibley is supported by Yamaha Motor New Zealand, PWR Yamaha, Arai, TCX, Oakley, G2, Asterisk, MotoSR, Vortex Ignitions, EC3D, Bush Riders MCC, Rossco's Start Up Services, Dirt Guide, Tire Balls, Renthal, Bikesportnz.com, CarbSport, FMF, Michelin, Yamalube CV4 GYTR, IMS, Rekluse, Workshop Graphics, Silverbullet.co.nz, Motomuck and O'Neal.
© Words and photo by Andy McGechan, www.BikesportNZ.com
Find BikesportNZ.com on FACEBOOK here