IT'S WOODVILLE GP TIME AGAIN
The past couple of years have been classic Aussie versus Kiwi battles, but Bay of Plenty's Cody Cooper is determined to reclaim the top spot and win his third Honda New Zealand Motocross Grand Prix title this coming weekend.
The man from Mount Maunganui is the current national MX1 motocross champion – and has been for five consecutive seasons now – and he arrives in the Manawatu this weekend (January 27-28) as the firm favourite to win what is regarded as the biggest stand-alone event on the Kiwi racing calendar – the Honda-sponsored New Zealand Motocross Grand Prix at Woodville.
But the 34-year-old knows it won't be easy and the pressure will be on him in more ways than one, the event this year accorded FIM Oceania status, meaning that every point Cooper scores also counts towards the battle-within-a-battle for FIM Oceania Challenge honours.
Former Woodville GP winner Kirk Gibbs, from Queensland, will go head-to-head with Cooper in the battle for MX1 class dominance, FIM Oceania bragging rights and the main Woodville GP title as well.
Cooper has won the premier trophy at Woodville on two previous occasions – in 2007 and 2014 – but the past three seasons have belonged to Australian invaders, Gibbs winning the Woodville crown on his last visit to the country in 2015 and then fellow Aussie Dean Ferris winning it back-to-back in 2016 and 2017.
Kiwi internationals such as Mount Maunganui's Rhys Carter (Kawasaki), Mangakino's Kayne Lamont (Yamaha), Taupo's Brad Groombridge (Suzuki), Rotorua's John Phillips (Honda), Nelson's Jared Guthrie (Yamaha) and Takapuna's Hamish Harwood (KTM), to name just a few, also have good reason to fancy their chances of upsetting Cooper.
Carter won the annual King of the Mountain motocross in Taranaki at the weekend and so is perhaps in form to topple Cooper, his mid-week training buddy.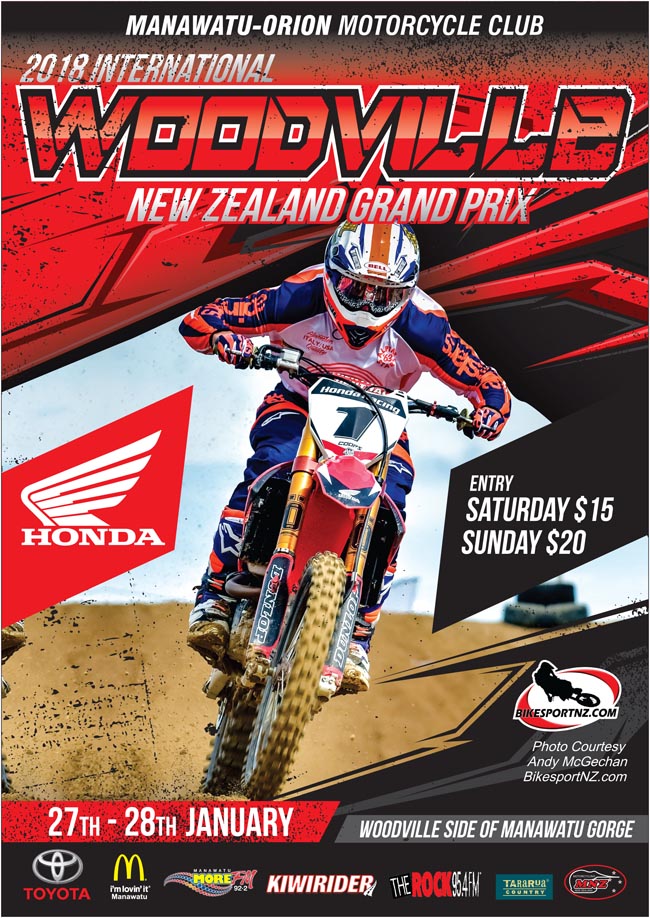 As well as Gibbs' entry, Australian strength will also be seen in the smaller bike classes, with Jay Wilson (Yamaha), Cooper Pozniak (Husqvarna), Mason Semmens (KTM), Bailey Malkiewicz (Yamaha), Tyler Darby (Honda), Jay Conforto (Kawasaki), Steve Sweeney (Honda) and Australian national women's champion Maddie Brown (Yamaha) bringing their considerable skills to New Zealand's No.1 motocross battleground.
Each of these visiting Australians will face a corresponding Kiwi in the tussle for FIM Oceania dominance.
Top Kiwis expected to feature in the 250cc and 125cc classes, participating in either FIM Oceania match-ups or simply within bike class battles, include riders such as Mangakino's Maximus Purvis (Yamaha), Oparau's James Scott (KTM), Taupo's Wyatt Chase (KTM), Tauranga's Brodie Connolly (KTM) Cambridge's Trent Collins, Tauranga's Micah McGoldrick (Honda), Wairoa's Tommy Watts (Husqvarna), Tauranga's Logan Blackburn (Kawasaki), Rotorua's Joshua Bourke-Palmer (Yamaha) and Cambridge's Seton Head (KTM), to name just a few.
Racing over the two days at Woodville caters for minis, juniors, women and veterans, with two 10-minute vintage motocross bike races an additional feature of Saturday's programme this year.
The novelty river race on Sunday is also a major crowd-pleaser.
© Words and photos by Andy McGechan, www.BikesportNZ.com
Find BikesportNZ.com on FACEBOOK here