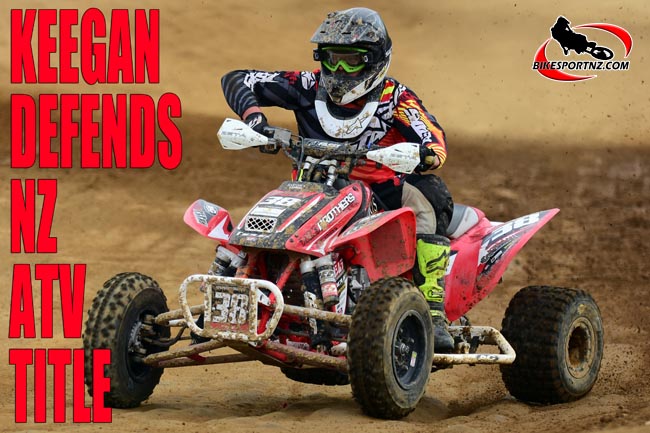 Stratford's Camo Keegan again had a massive fight on his hands, but the Honda rider was eventually able to break free of the competition and successfully defend his national All Terrain Vehicle (ATV, quad bike) premier grade title this season.
It's never easy wrestling an ATV around a gnarly motocross track, particularly one as challenging as the Taranaki Motorcycle Club's steep Barrett Road facility, on the outskirts of New Plymouth, but the 28-year-old Keegan again proved up to the task.
It was the same venue used for the ATV nationals in 2015 when Keegan's younger brother Scott Keegan clinched the main title.
The sibling rivalry simmered again this year, although it was Amberley's 2014 champion Ian Fitch who came closest to knocking Camo Keegan off his perch at the weekend.
The two Keegan boys shared all the race wins – Camo winning six of the seven races over the Saturday and Sunday of Labour Weekend and Scott the remaining race – while consistency gave Fitch an outside chance of taking the crown.
Unfortunately for Scott Keegan he crashed too many times on day one and scored no points in three of the premier grade races.
Fitch finished 4-2-3-2-3-2-3 in the seven premier grade races and was forced to accept the runner-up spot overall, eventually trailing Camo Keegan by 26 points.
Christchurch's Callum Macrae was the best of the rest, his top results were a third placing in the first race of the weekend and he then scored a fourth placing on four other occasions, but this was enough for him to clinch the third podium spot for the championship.
Leading final standings in the 2017 New Zealand ATV Championships:
Premier grade: 1. Camo Keegan (Stratford) 170 points; 2. Ian Ffitch (Amberley) 144; 3. Callum Macrae (Christchurch) 121.
450cc Production class: 1. Corey Whitelock (New Plymouth) 164 points; 2. Shane Robinson (Otorohanga) 136; 3. Taylor Graham (Christchurch) 134.
250cc Production class: 1. George Doig (Christchurch) 175 points; 2. Jack White (Nelson) 146; 3. Tyler Campbell (Patea) 131.
Veterans: 1. Greg Graham (Christchurch) 175 points; 2. Wade Taylor (Napier) 150; 3. Gary Doig (Christchurch) 144.
© Words and photo by Andy McGechan, www.BikesportNZ.com
Find BikesportNZ.com on FACEBOOK here