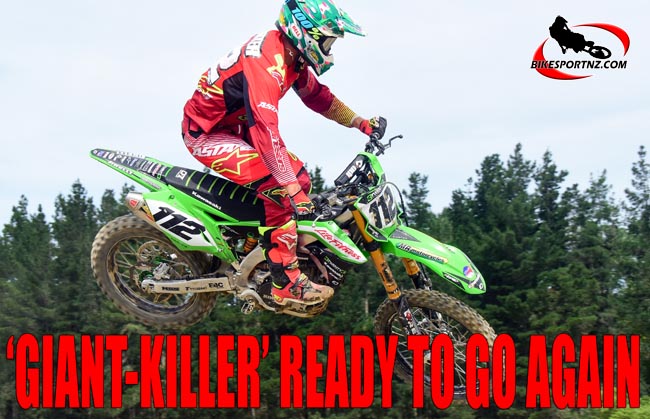 Motocross is regarded as one of the toughest sports in the world and, thankfully, New Zealand builds riders tough enough to match some of the best on the planet.
The 2017 New Zealand Motocross Championships kicked off at Pleasant Point, on the outskirts of Timaru, just over a week ago and likely title winners have already revealed themselves.
But, what is perhaps surprising is that, despite a handful of Australian fulltime professionals arriving to use the Kiwi series as a "warm-up" for their own domestic competition later in the year, all three championship classes currently feature New Zealanders in the key podium positions.
The four-round Mazda and DRD magazine-sponsored series marked its only South Island stop on the tour when riders tackled the demanding circuit near Timaru, and this weekend they travel north to arrive at Rotorua for round two, with another chance to shake-up the points.
Bay of Plenty professional Cody Cooper (Honda), the defending champion in the premier MX1 class, fought off a determined challenge from Australian rival Dean Ferris (Yamaha) at Timaru and the pair are separated at the top of the category by just five points as they prepare to line up again at Rotorua on Sunday.
Also within strike range is Mount Maunganui's Rhys Carter, the Kawasaki man finishing inside the top three is all three MX1 races at Timaru to sensationally edge out Australian professionals Todd Waters (Honda), Jesse Dobson (Honda) and Luke Styke (KTM).
Despite his privateer status, Carter did not look at all uncomfortable as he led the high-profile Australians at Timaru. His week-day job as a motocross coach seems well assured.
"I was pretty happy with my results in Timaru, although I did expect it, to be fair," said the 27-year-old Carter.
"The first round at Timaru is always the toughest for me. It's a brutal track and can catch you out. I have not always gone well there and to come out of the day in one piece was awesome.
"The next three tracks in the series are my favourites," he said, hinting that more good results could be expected.
In the MX2 (250cc) class it was a similar case of the defending champion leading the way, although Takaka's national MX2 No.1 Hamish Harwood (KTM) was even more comprehensive in winning his class at Timaru.
With three wins from three starts, the South Island rider, who is now based in Takapuna, dominated the MX2 class at Timaru with a hat-trick of wins, forcing Christchurch teenager Dylan Walsh (Yamaha) to accept the runner-up position overall.
Walsh finished third in the first race at Timaru, behind Reporoa's Hadleigh Knight (Husqvarna), and he then twice crossed the finish line as runner-up, and so he trails Harwood by 11 points at the start of this weekend.
Third best overall in this class is Knight, the 20-year-old just six points behind Walsh.
The 125cc class is developing into a two-rider fight, with Taihape's Hayden Smith (KTM) and Karaka's Kurtis Lilly (Husqvarna) scrapping over the race wins at Timaru.
This battle is the tightest of the series, with just three points to separate leader Smith from runner-up man Lilly, while Nelson's Hayden Wilkinson (Yamaha) is third overall, 14 points further back.
The competition next heads to Palmerston North for round three on March 12, with the fourth and final round set for Taupo on March 25.
© Words and photos by Andy McGechan, www.BikesportNZ.com
Find BikesportNZ.com on FACEBOOK here
STANDINGS:
Leading overall standings after the first round of four in this season's New Zealand Motocross Championships at Timaru:
MX1 class: 1. Cody Cooper (Mount Maunganui, Honda) 70 points; 2. Dean Ferris (Australia, Yamaha) 65; 3. Rhys Carter (Mount Maunganui, Kawasaki) 62; 4. Todd Waters (Australia, Honda) 55; 5= Jesse Dobson (Australia, Honda) and Luke Styke (Australia, KTM) both with 46.
MX2 class: 1. Hamish Harwood (Takapuna, KTM) 75 points (maximum); 2. Dylan Walsh (Christchurch, Yamaha) 64; 3. Hadleigh Knight (Reporoa, Husqvarna) 58; 4. Ethan Martens (Waitakere, Yamaha) 54; 5. Kaleb Barham (Australia, Husqvarna) 50.
125cc class: 1. Hayden Smith (Taihape, KTM) 72; 2. Kurtis Lilly (Karaka, Husqvarna) 69; 3. Hayden Wilkinson (Nelson, Yamaha) 55; 4. Dan Bell (Levin, KTM) 54; 5. Hamish Macdonald (Christchurch, Yamaha) 48.