The real hard men and women of off-road motorcycle racing get their season underway in the South Island this weekend with the opening round of the New Zealand Enduro Championships near Nelson.
It's an earlier start to the enduro nationals this time around, with this opening round of six set for Speargrass and Lake Station, St Arnaud, south of Nelson, a month earlier than the corresponding event last year.
Round one was held in late March last year and this season's earlier kick-off to the series will put added pressure on riders who have perhaps been slack with their pre-season training.
Taupo's defending champion Brad Groombridge is probably the man most favoured to win on Saturday, although he knows he can expect tough challenges, not least of all with the scheduling of the races.
"I'm trying to race the motocross nationals as well and that's going to be tough to do both series with the enduro in Nelson on Saturday and do the Rotorua round of the motocross nationals on Sunday," Groombridge explained.
"I've got a mate who flies helicopters who reckons he'll fly me up Saturday afternoon. If not, I'll go to plan B and that means driving. I could be quite tired on Sunday."
Groombridge finished fifth overall in the MX1 class at the motocross nationals last season, in addition to going on to win the New Zealand Enduro Championships outright and the New Zealand Cross-country Championships overall as well, so perhaps anything is possible.
The sport will have a new structure this season and it should do a lot to encourage novice or first-time riders to enter.
The national series will be incorporated into three other competitions, with two rounds from each of those parallel-but-separate series – the northern, central and southern competitions – counting as the six-round nationals. Points from five of the six rounds are counted towards the championship, with riders to discard their one worst result.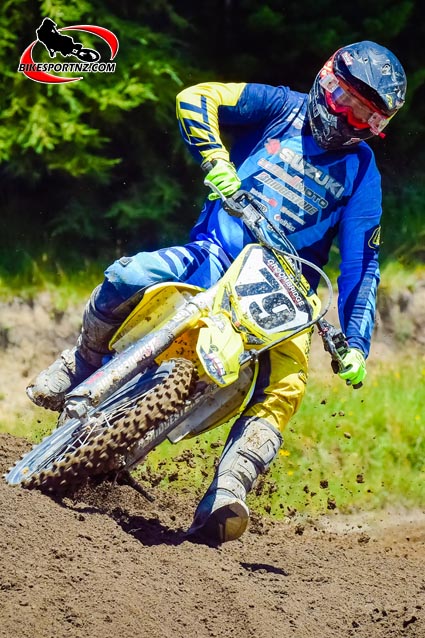 "We also have an intro class this year. It has non-championship status and will be at minimal cost to the riders, to attract entry-level riders," said Motorcycling New Zealand's enduro commissioner Justin Stevenson.
Meanwhile, former cross-country international Callan May, from Titirangi, could the sport a real shake-up at the top this season and so too could Coatesville's Adam Greenslade, along with Helenville's Tommy Buxton (pictured above, right) and Christchurch bothers Angus and Hamish Macdonald. All five riders could pose a threat to series favourite Groombridge (pictured left).
It will also be worth watching out for Mokau's former national enduro and cross-country champion Adrian Smith, Cambridge's Dylan Yearbury, Taupo's Brendon Imlig, Cambridge's Simon Lansdaal, Auckland's Freddie Milford-Cottam, Napier's Mackenzie Wiig, Rotorua's Bradley Lauder, Northland's Mitchell Nield and possibly also Taupo's rising young star Greg De Lautour, to name just a few.
The 31-year-old Smith, who was out of the sport for most of last season because of work commitments, is a welcome comeback, returning to racing on his Yamaha YZ250 two-stroke bike, and this year he will bring with him Argentine visitor Santiago Vazquez (also on a Yamaha YZ250) to at least two of the national enduro rounds.
Tokoroa's Sean Clarke and New Plymouth's Dougy Herbert are always good bets for a top placing in the veterans' grade, while Thames rider Natasha Cairns (main photo, above) has enjoyed her dominance in the women's grade over the past few seasons and this looks unlikely to change.
Comparable to other off-road bike sports such as moto trials riding, motocross and cross-country racing, the enduro code is similar in some respects but quite different in others.
It could be described as rally car racing for motorcycles, with riders set off in groups of three at one-minute intervals and their battles are as much about conquering the terrain and elements as they are with beating the other competitors.
After racing this weekend, the national series travels north for round two near Whangamata on February 25.
Round three is set for the Moonshine Valley, north of Wellington, on March 18, followed by round four near Christchurch on May 6 and then Waitawhiti Station, east of Eketahuna, on June 3. Finally, it all wraps up near Tokoroa just two days later, on June 5.
© Words and photos by Andy McGechan, www.BikesportNZ.com
Find BikesportNZ.com on FACEBOOK here