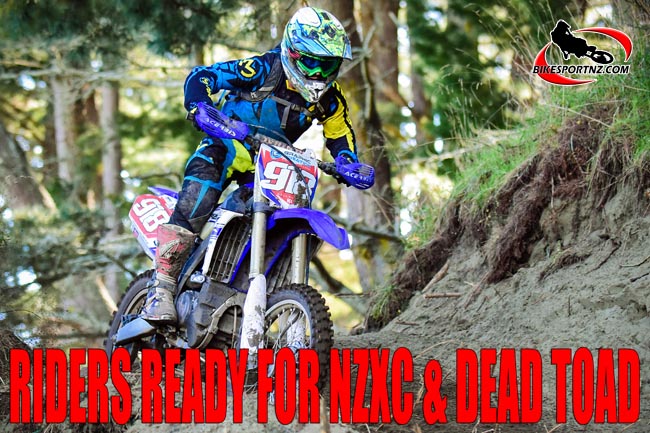 When Taikorea's Paul Whibley wrapped up his international career and returned to the Manawatu late in 2014, he was keen to create a domestic series that would help put fledgling fellow Kiwis on the same pathway that had taken him to major title wins overseas.
And so the NZXC cross-country series was hatched.
The 38-year-old former forestry worker and Yamaha stalwart, known affectionately in the bike racing world as "The Axeman", decided he'd "put something back" into the sport that had taken him so far and he formed the NZXC series for the first time last year.
With no need to create a log-jam of events on an already busy calendar, Whibley decided he'd build his series by "cherry-picking" races from already-establish cross-country competitions in New Zealand – just scoring them separately – and it proved an immediate success.
This season's second annual NZXC competition kicked off near Tokoroa in June and the penultimate round, the fifth round of six, is set for the Riverhead Forest, west of Auckland, this Sunday. The event doubles also as the annual stand-alone "Dead Toad" cross-country race.
Riders must count only five of the six NZXC rounds, discarding points from their one worst result, and that makes it very tight at the top between two close friends and long-time adversaries, Coatesville's Sam Greenslade and Titirangi's Callan May (main photo, above).
These two riders have already locked horns in the parallel but separate Dirt Guide Cross-country Series earlier this season, Greenslade prevailing at the winner-takes-all final round near Tokoroa in October.
And now they clash again for top honours with May leading Greenslade by just one point, on adjusted scores, after May drops his non-scoring effort from the Woodhill Forest round in July (thanks to his suffering a flat tyre that day), with Greenslade also discarding his worst result, a third placing at Woodhill.
"It is very close between the two of us," May admitted. "He beat me on the day at Tokoroa in October and he won the Dirt Guide series. That was disappointing, but I'm feeling good ahead of Sunday's race at Riverhead.
"I like the Riverhead Forest venue. It's just half an hour's drive from my home and I've ridden there a lot over the years.
"It's been raining a bit this week, but I don't mind if it's muddy. I think Sam will like it at Riverhead too, as well as (Howick's) Liam Draper and those are the guys I'll have to watch for," said May.
"Winning this series has been one of my goals this year."
Draper (pictured here) will certainly be somebody for May to be wary of, the former moto trials expert converting to cross-country racing and adapting very quickly. Draper won the Dead Toad event last year.
Other leading riders expected to challenge for the win on Sunday include Riverhead's Tommy Buxton, Taupo's Nathan Tesselaar, Waimauku's Jake Wightman and Cambridge's Ashton Grey, to name just a few. Whibley may also be a starter at his own competition on Sunday.
The sixth and possibly-deciding final round of the NZXC series is set for Pahiatua on Sunday, December 4.
May is supported by Yamaha Motor New Zealand, Kiwi Rider magazine, BikesportNZ.com, The Dirt Guide, O'Neal, Oakley, Michelin, TCX Boots, Renthal, Zeta, Twinair, Graphic Creations, City Electrix, Construct Now and P1 Moto.
© Words and photos by Andy McGechan, www.BikesportNZ.com
Find BikesportNZ.com on FACEBOOK here