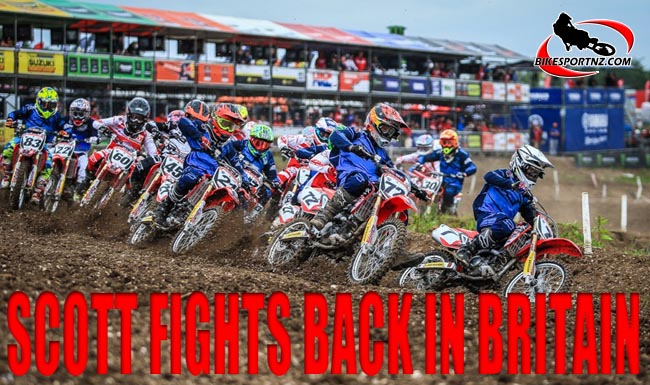 New Zealand's James Scott has mixed feelings about his experiences at the weekend's British Motocross Grand Prix near Winchester.
Though only making his debut in European competition this year, the recently-crowned New Zealand junior 13-16 years' 85cc class champion from Oparau, near Kawhia, has shown he has the pace to win the European 150cc Motocross Championships (EMX150) … if only a little luck would fall his way.
Scott finished seventh and fifth in his two races at the EMX150 championship opener in Germany on May 8 and the 14-year-old headed to round two of five in the United Kingdom at the weekend in a confident mood.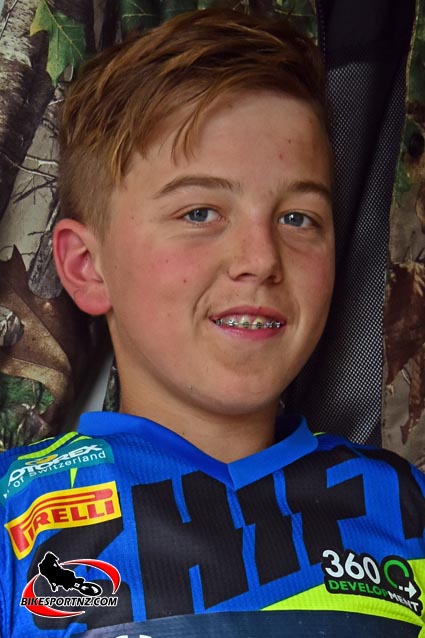 However, that confidence suffered a massive blow when his bike's front tyre went flat early in the first race at the Matterley Basin circuit, near Winchester, in south-west England.
"I qualified pretty well and got the holeshot in race one, I was leading the race when I got a flat tyre on the first lap," he told BikesportNZ.com yesterday.
"I tried to finish the race but I couldn't do the big jumps and pulled out of the race with three laps to go."
He was credited with 27th place, but well out of the points.
"I got an alright start in race two the next day (seen on bike No.72, above) and I managed to get myself into the lead after the first lap. Then (the championship leader from Finland) Emil Weckman got past me and started to pull away. Then I got back into the groove and started catching him up but I was about 30 seconds behind and it was just too far.
"Then I cased the bike on the big finish line double jump and I hurt my foot. I slowed it down a bit after that because it was just too sore.
"I think I've shown I'm right up there with the top guys and, although I think my chance of winning the title is gone, I can still push for a round win or maybe even make the podium at the end of the championship."
Scott is now seventh overall in the championships standings after two rounds and there are only seven points between him and the rider currently fourth in the championship, Estonian Jorgen-Matthias Talviku.
The next round is in Belgium on July 31 and Scott has every chance of catching Talviku, fifth-ranked Swedish rider Leopold Ambjornson and sixth-ranked Swedish rider Rasmus Moen, who is just one point ahead of him.
"I am based at Lommel in Belgium, which is the venue for the next round and so I've been getting plenty of track time there. It's pretty deep sand but I feel confident I'll do okay.
"I really want to thank all the people who have supported me – Ben and Lucy Townley for mentoring me and helping at the track, The North King Country Motorcycle Club, 360 Developments, Motorcycling New Zealand, Kiwi Rider magazine, BikesportNZ.com, mum and dad, of course, and all the other people back in New Zealand who have been sending me encouraging messages."
Main photo courtesy MXGP
© Words and additional photo by Andy McGechan, www.BikesportNZ.com
Find BikesportNZ.com on FACEBOOK here