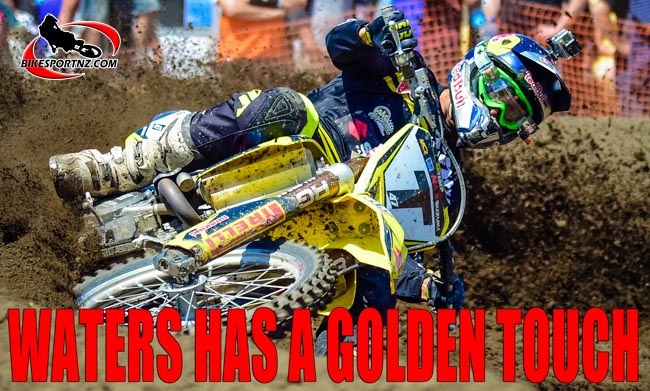 The Suzuki men are on the move and now occupy two of the top five positions in the MX1 class at this season's New Zealand Motocross Championships.
It was a profitable day of racing, although ultimately also a frustrating one, at the second round of four in this season's championships series in the Manawatu on Sunday, with Gold Cost rider Todd Waters denied the top step of the MX1 class podium by barely the width of a wheel.
Riding for the Mount Maunganui-based MC2 Suzuki Racing Team, the 25-year-old Waters missed out on claiming the top step of the podium by just one point to fellow Australian visitor Dean Ferris.
However, in finishing with a 1-2-2 score-card, former world championship Grand Prix star Waters did move himself up from third to second in the championship standings.
He is joined among the competition's top five by MC2 Suzuki Racing team-mate Brad Groombridge, the man from Taupo finishing 5-4-5 in his three outings on the sand-based track at Himatangi, not far from Palmerston North, and this moved him up from sixth to fifth in the championship standings.
"I qualified fastest and felt good on the track," said Waters.
"But I just couldn't nail down the starts. I won the first race and was all over Ferris in races two and three but just couldn't get past him or make it stick. My corner entry speed was faster than his, but I had to brake mid-corner to avoid hitting him and this meant I lost momentum again. It was pretty frustrating actually.
"It's good that I'm up to second in the points but I feel that I should be up front. It's all good though, because we're really only racing this series to get tuned up for our own nationals back home."
That series is due to kick off at Horsham, in Victoria, on April 3.
MC2 Suzuki Racing Team manager Andrew Hardisty was naturally thrilled to see his riders making such good progress at the weekend.
"I continue to be impressed with the performance of the MC2 team riders," he said.
"Todd was a huge contender for the overall win, but the penny simply didn't flip our way today. Brad only unpacked his bike from the crate last week and showed, even with a stock standard bike, he could snatch the holeshot.
"We will go now to round three with a clear vision of what we need to do to win the championship."
The second half of the Kiwi motocross calendar takes riders to the Rotorua Motorcycle Club's track for round three on March 13, with the fourth and final round set for the Digger McEwen Motocross Park facility, on the outskirts of Taupo, on March 20.
Waters, Groombridge and the MC2 Racing Team are supported by Suzuki Motorcycles, Bel-Ray Lubricants, Artistic Media New Zealand, Pirelli Tyres, Yoshimura, Oakley, Renthal, O'Neal Racewear, Dirtrider Downunder Magazine, www.BikesportNZ.com, Zeta, DRC, Braking, The Dirt Guide, Xeno Web Development, Epic Decals, Sena Prism Action Camera, Sevenee Suspension Development, Taupo Diesel Solutions, Spiegler Brake Lines and Pirini Bike Park.
© Words and photos by Andy & Bridget McGechan, www.BikesportNZ.com
Find BikesportNZ.com on FACEBOOK here