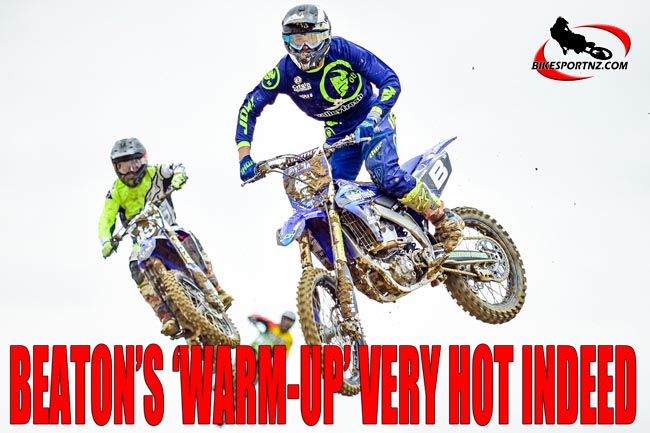 For Australian rider Jed Beaton, the New Zealand Motocross Championships delivered him so much more than was actually promised.
He had arrived to ride for the satellite Triple B Valley Fresh Yamaha Race Team and was in New Zealand merely to use the four-round series as a "warm-up" for his own nationals, set to kick off now in less than two week's time at Horsham, in Victoria.
As it turned out, he did so much more than just "warm up" and he came extremely close to winning the New Zealand MX2 crown on debut.
He arrived at the fourth and final round at Taupo on Sunday trailing the MX2 class championship leader, South Islander Hamish Harwood, by just 13 points.
Former Australian under-19 champion Harwood (CML Racing Team KTM) was always going to be hard to beat, but Beaton was still satisfied that he was even able to be in this position.
Beaton had never raced before at the Taupo track and didn't know what to expect.
As it turned out, a first-turn crash in the first of three MX2 races on Sunday turned Beaton's difficult assignment into an almost impossible one, but he put his head down and raced from dead last place to finish that race in sixth position.
Harwood finished runner-up in that race, behind rampaging Altherm JCR Yamaha Racing Team rider Kayne Lamont and so the gap at the top between Harwood and Beaton had now stretched out to 20 points, but anything was still possible.
Harwood again settled for second behind Lamont in race two, while Beaton fought through to finish fourth, but the best was yet to come from the 18-year-old Australian.
Beaton caught and passed holeshot king Lamont in the final race of the day, pushing hard to build a more than 19-second lead over Lamont at the finish and claiming his third win of the 12-race series.
But Harwood rode home in fourth position and that gave him the title by 17 points from Beaton.
In  summary, the four-round Kiwi series was a satisfying experience for Beaton.
"I came here to gain experience. Actually, as early as the second round it became more than just a warm-up exercise and I was starting to believe I could win the title.
"I had a couple of bad races (although his worst result was a still respectable ninth placing) and that didn't help. But it was an awesome experience. This is exactly what I can expect at home in our nationals.
"The Kiwis are really fast over here and I had to be on my 'A' game. I managed to get on the podium at every round and so my consistency was good. I know what I need to work on now, my corner entry speed and my starts."
The Australian Motocross Nationals kick of at Horsham, in Victoria, on April 3.
The Triple B Racing Valley Fresh Yamaha team is supported by Origin Windows, Drainage Systems, Bob McCleary Yamaha, Pirelli Tyres, Thor, Alpinestars, Spy Goggles, JCR, Yamalube, Krooztune suspension, DPH Motorsport, Beatonsproformula and Ride Park Victoria.
© Words and photo by Andy McGechan, www.BikesportNZ.com
Find BikesportNZ.com on FACEBOOK here